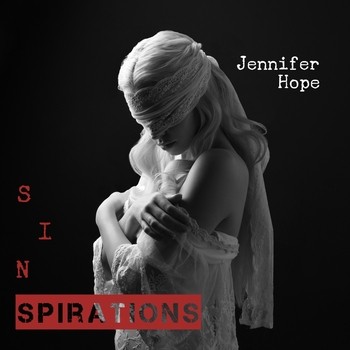 Cleopatra Records To Release Alternative Recording Artist's Four Track Digital EP Friday, January 12th!
After independently raising money for Linkin Park's charity, the Music for Relief, One More Light Fund in Memory of Chester Bennington, Jennifer Hope delivers her latest alternative acoustic EP, SINspirations.
Available Friday, January 12th on iTunes and all major digital music platforms, the EP includes Jennifer's latest original song "#1 Deadly Sin" and three songs originally performed by a diverse array of artists such as Nine Inch Nail's "Hurt", Bruce Springsteen's "Dancing In The Dark" and Linkin Park's "My December".
Buy: https://itunes.apple.com/album/id1331275547
"#1 Deadly Sin" was written based on the FOX primetime television series, Lucifer. The track features Jeff Babko (Jimmy Kimmel Live Band Pianist/Keyboardist, Arranger and Composer) and was produced by Jennifer Hope and Johnathan Bruns with executive producer Warren Huart (Aerosmith, The Fray, James Blunt).
"Hurt" began as a one-take performance in Eddie Van Halen's 5150 studio. Building on the original live track, Hope wanted to retain the freedom, energy and raw emotion of the performance as she produced and completed the song.
"Dancing In The Dark" was co-produced by Jennifer Hope and Pete Strobl and includes guest vocals by Christopher Webb, who also sang on her single,
"Bring Me To Life". Although an unlikely choice for Jennifer's repertoire, she was inspired to put her spin on it when she envisioned her sound with the message contained in the song.
Following Jennifer's substantial Download To Donate charity fundraiser in which "My December" was an exclusive download for, Cleopatra Records is releasing the song for further distribution. The track was produced by Hope and features Dolce Wang on cello and Tommy Reeves on piano.
All of the songs on SINspirations were created, inspired and influenced by and for television and film storytelling and visuals. With mood setting slow to mid-tempos and emotional vibes prevalent in today's art-mimics-life themes, the soundtracks connect on a personal individual level as well as to on-screen characters.
About Jennifer Hope
Jennifer Hope is an alternative, singer-songwriter based in Los Angeles, California. Known for her distinct ethereal/dream pop vocals, unique songwriting style and enchanting renditions of well known songs, her recordings have been released on Cleopatra Records as well as her own label, Mystic Dreams Music.
About Cleopatra Records
Cleopatra Records is a Los Angeles based independent record label founded in 1992 by entrepreneur and music fan Brian Perera. It has since grown into a family of labels encompassing a variety of genres with emphasis on unique and experimental artists.