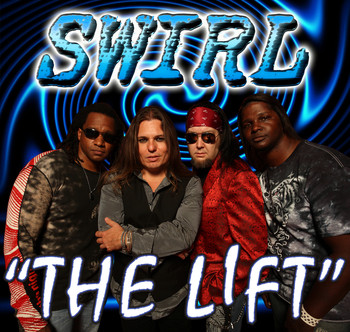 We @skopemag are so excited to bring you the new single from Swirl. The guys are back at it with 'The Lift.' Join us today as we speak with DT about the new single and so much going on with Swirl!
Q: Where are we speaking from and how you feeling about 2018?
DT here, guitar player for Swirl. I am checking in from sunny Southern California today where it is currently 78 degrees at 3pm on January 4! Wherever you are reading this from I hope you are enjoying your winter as much as I am mine!
I gotta say I am feeling great about the upcoming year for Swirl. As we look forward in 2018, we are days away from the release of our new song, "The Lift". It is already #4 with Australian internet radio, receiving a massive push from internet radio in the UK, Germany as well as United States and that was after first premiering here with Skope Magazine on Dec 4, 2017. We have just begun the promo campaign for "The Lift", which will include both a lyric and official music video. Swirl will have more songs licensed into film and TV by the spring of 2018 and Swirl WILL tour.
Q: When you look back on 2017 what are you most proud of musically?
We finished 2017 with our song "Rise Up" at the #2 position of the Top 30 on 365 Elite Radio, we had a full year to promote our first music licensing venture ((3 songs in the movie 'Ditch Day", which so far has been released in Germany, Italy, Brazil, The UK, France, Korea and the United States), shot our first music video for the song "Rise Up" (Feat scenes from the 'Ditch Day' movie- https://youtu.be/6_RhbgL5Cv0) and did some great shows. That`s a lot of accomplishments in 365 days! All of that having been said most "proud" of musically? We are still the same line up! We are still "all in" and still working together towards the same goal. We have grown as musicians, men and family together.
Q: Swirl has been together for many years now, what has been the key to your longevity?
Simple. We genuinely enjoy what we are doing and who we are doing it with. We are friends. This is a business and we do not lose sight of that, but for us our "business" is rooted in our relationships with each other. There is a lot of respect for each member of Swirl. We have grown together as musicians, men and family.
Q: Your new single 'The Lift' is coming out January 11. How long did you work on writing & recording that single?
The writing process was fairly quick as I had the bulk of the parts written before I showed it to the rest of the band. In typical Swirl writing fashion I worked on the arrangement first with Brian "Bam Bam" Jones then we played it for Shane and Alfred. 2 or 3 writing sessions with the full band and we were basically done with the music and melody. Then Alfred went to work on the lyrics.
An interesting thing for Swirl this time was, being introduced to the owner of Granted Records in Santa Ana, CA through Megan Waters (the producer of the 'Ditch Day' movie). I set up a time for Brian and I to go meet him and check out the studio. We felt comfortable right away with the vibe after meeting the owner and his business partner. They are both musicians in their own right so they understood the creative side of the process as well as the business side. They were the ones to convince us to start a Go Fund Me campaign. Obviously crowd funding was something we were aware of on the surface, but didn`t know that much about. They had done their research on Swirl and saw that we have a strong social media presence and the fan base that comes with that on the independent band level, so it made sense. We went into it with no idea what to expect. The account was opened on October 14, 2017 with a modest goal of $3,000.00. Within 72 hours of the start of that campaign our fan base, "The Swirl Society" had donated enough for us to book the recording session! We were very taken aback by the response. It was both inspiring and humbling at the same time.
Q: What is the meaning behind the lyrics of 'The Lift'?
Direct from the lyricist Alfred Ramirez- "I would like to start by saying that when I write lyrics it's usually tied to a personal experience of mine or one that I have witnessed in the world we live in. I also feel what's most import is not so much what my lyrics mean to me, but more importantly what my lyrics mean to the listener. I want the listener find their own story within the lyrics. To me that means the listener can interpret and apply them in any way they chose.
What "The Lift" means to me is that we all need help sometimes, be it an emotional lift or a physical lift. We shouldn't be afraid to ask for help when we need it. We also shouldn't be afraid to offer to help when were able to. We are all on this planet together and we are all connected, so let's help one another.
My personal Lift was given to me by "The Minor Goddess " who lifted me out of a depressed and stressed out anxious time in my life. Thank you MG! "Your words will always stay with me ".
Q: There is talk of a video as well, what is your vision for that?
Step one will be the lyric video which we just finished up on January 2. We are pretty proud of it, because we didn`t do the stock lyric video or even use our previous style. For "The Lift", without giving too much away, it`s basically a look at us recording the song. It`s almost a full music video in itself and we can`t wait to share it.
Q: Do you prefer if fans buy the MP3 or stream the new single?
From a business standpoint naturally I prefer people buy copies of the song, but more importantly to myself and Swirl as a whole is that people listen to and fall in love with "The Lift". The reaction has been incredibly strong from the Go Fund Me investors (where we gave a digital download of the song in both electric and acoustic versions), radio stations (both internet and FM) and reviews written for "The Lift".
Q: When you are not making music what do you also enjoy?
I am big on American football. I played it. I have won championships with it. I coach it. I watch it. Often times I do that with a guitar in my lap or my phone right next to me so I can conduct business for Swirl. It`s a 24/7, 365 labor of love when you are self- managed, handle your own bookings and are your own record label.
Q: What is coming up for Swirl and where you @ online?
Next up for Swirl will be the marketing campaign for "The Lift", which will include a NAMM show appearance for the band, the press circuit of radio and print interviews and getting back on stages! With the song doing so well in Australia we are looking to expand where we to travel to include there, Germany, The UK, Japan, Brazil, Canada, the United States and basically anywhere there is interest in Swirl as a result of the music, media licensing opportunities or both. Listen for Swirl music to appear on radio, TV and in movies throughout 2018.
We will continue to promote the Go Fund Me page to launch new music for Swirl as we get ready to record the follow up to "The Lift". Here is the link – https://www.gofundme.com/launch-new-music-by-swirl-the-band
We are very easy to find online. Everything is pretty much "Swirl the band". Punch us up on Google or any search engine and we are sure to come up. The official website is http://www.swirltheband.com, Twitter, Instagram, Facebook etc…are all Swirltheband.