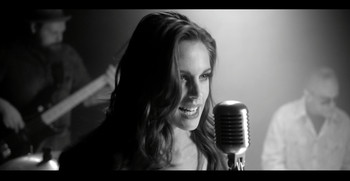 Written when Lynn was going through her own challenging life transitions, the song depicts the difficulties of overcoming such transitions in life, where sometimes we feel like being enveloped in a dark room of emotions or characters, even when we are surrounding by sunshine and light. That's when we have no choice but to let the voices inside have a voice and take meaning to each own life's challenges and direction.
Lynn Moffatt shares the following about "Dark Room":
"Have you ever been alone in a room and gotten the feeling that maybe you weren't alone at all? When everything is dark and silent, the voices inside get louder. 'Dark Room' is about that inner controversy and social pressures. Turn off the lights and turn up the song and let your imagination drift…find your own 'Dark Room.'"
Growing up in Capreol, a small town in isolated Northern Ontario along the Tans-Canada Railroad, Lynn Moffatt's music was molded and shaped by her isolated upbringing, bringing out a dynamic vocal and melodic range with comparisons to the clean country melodies of her childhood idols like Patsy Cline, as well as inwardly delving into her own self, delivering grit and emotional power in her music.
Her debut album is expected for release later this spring, and is produced by legendary music heavyweights Chris Hall and Terry Brown. The album intertwines Lynn's vocals with string and steel guitar riffs straight out of The Grand Ol'Opry, traveling bass lines, electric guitar and organ pads reminiscent of the '60s country-rock era.