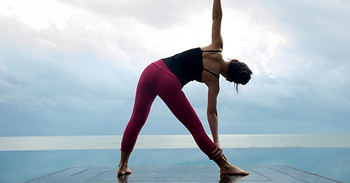 There's no better way to power through a high-intensity workout than to crank the dial and let the beat push you. You can pay a personal trainer with a past life as a drill sergeant to yell in your ear, or start a competitive feud with a rival for motivation, or you can just line up the tunes to simulate the experience and boost your performance. But pulling together the perfect playlist can be a challenge. You want to take the pace or beat into account, the intensity of lyrics and emotion, and, of course, personal taste. The right mix can fuel your motivation, keep you on pace, and propel you to greater heights. On the other hand, one or two weak titles in the set can really kill your momentum and undermine your drive.
While pop music can generally provide the racing beat needed to help keep your pace up, it also tends to lack the ferocity that alternative genres excel at providing. The intensity of hard rock, heavy metal and some EDM propels you to greater heights of performance and provides a degree of emotional catharsis at the same time. Think fury, rebellion and all-out war. You want to get all that pent up frustration out on the mats to keep it from spilling out anywhere less appropriate. Go ahead and let loose; the weights can take it. With that in mind, here are our top alternative tunes to fuel your hardcore workouts for the coming year.
For EDM fans, try Bingo Players' "Knock You Out", Diplo's "Revolution", Krewella's "Killin' It" and Sub Focus's "Endorphins" to start with. Combining the frenetic pace and heavy beat of EDM with ferocious lyrics is great for fast paced workouts like circuit training. Skipping, pull-ups, even work with the kettle bell reach new heights with an alternative EDM-fuelled workout.
The hard rockers and metalheads in the crowd are spoiled for choice, with everything from classic rock hits to today's gritty alt-rock tunes and every subcategory of metal just a click away. We've all pressed, pushed and lifted to "Eye of the Tiger", but to really bring the intensity, consider something a little darker and heavier. A good 90% of Metallica's backlist should do the trick for fans of the classics. Rise Against scratches the same old school itch with a stronger punk vibe – reach for their earlier albums for raw, fast-paced hits.
Black Veil Brides and several of Evanescence's hits bring the symphonic metal and girl-power vocals for equal opportunity intensity. Want the pace and tone without the screaming? Reach for high-intensity instrumentals like Apocalyptica's cello covers of Metallica, or Jason Stallworth's "Heavy Metal Workout II" custom targeted album. Bonus round: Apocalyptica has branched out for covers and team-ups like Adam Gontier's "I Don't Care" so you can enjoy those driving cello beats backed by full power drums and unreal vocals pumping you up with rebellious disregard for limits.
While high intensity workouts are all about stretching your limits and reaching new heights, remember that nothing kills the mood and stalls your progress more than an injury. Prepare ahead of time with healthy habits, rigorous warm ups and the right gear so you can give it when the beat starts. Get enough sleep, hydrate, eat clean and stretch it out before starting out. Invest in the right footwear for the job, keeping in mind that lifting, circuits, and interval training all have different demands on your body and wardrobe. To guard against new injuries and support areas impacted by past ones, get the right support clothing for your needs. Tommiecopper.com provides compression and support gear including pants, socks and a shoulder support shirt collection. For lifting especially, compression and stability-oriented gear can not only guard against injury, but improve your performance.
Get psyched up for your high intensity workouts with a playlist full of ferocious, explosively alternative tunes. Safeguard your progress by preparing ahead of time so you can give it all in the moment. You want to do battle against your limits, without actually wreaking havoc against yourself, so make sure you're geared up for combat in protective, supportive gear. Pretrain with stretches, stability and warm-up exercises. Bonus points if you ramp up the energy with the tunes through your warm up. Then bring it to full throttle with pulse-pumping EDM, hard rock or heavy metal hits cranked to eleven and work your way up to those personal best weights, set a new record on the circuit, or just wreck yourself on the intervals.