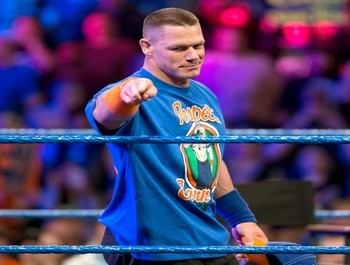 This is a review of functionality within the WWE Mobile Content Club by a blogger and is not the views/opinions of the club or the WWE.
The WWE Mobile Content Club – An introduction
The WWE Mobile Content Club is a popular subscription site for any WWE fan in the UK, whether it is for fans of SmackDown, RAW or NXT. The site allows members to watch and view as much WWE content as is available on their mobile. This is all for a fixed fee on your mobile bill, so there is no hassle.
All the content within the website is watched via a HTML 5 mobile website optimised for the members viewing pleasure. There is no need to download an app. Add to this, all content on the website is accessible via multiple mobile platforms including windows, apple and android phones and there is a club open to everyone in the UK on the O2, Vodafone and EE networks.
When subscribing to the WWE Mobile Content Club members can enjoy the very latest exhilarating WWE action, both action from the past as well as the very latest and up to date action. This is because clearly a dedicated team that is passionate about bringing the latest matches and clashes must offer this content for members of this club. Any passionate WWE fan will want to use this website.
Choose from a large selection of WWE wallpapers
One of the big benefits of the website once you've subscribed is the large amount of content. One area of content is that there are over 400 wallpapers to use for any member.
A member will be able to prove to their friends that they are John Cena's (for example) number one fan by using wallpaper as their phone screen.
John Cena, one of the most popular WWE legends
Finding a new wallpaper to use could not be any easier as the website has easy to use search functionality and very helpful search tools. Members can search by most popular to find great and classic wallpapers they may not have seen before. The most recent section is also a great way to find wallpapers of the latest dramatic action. There is also a favourites section so you can keep all the wallpapers you have enjoyed in one easy access area. In addition, there are a large number of categories including Superstars, RAW, SmackDown, WWE NXT, Women Superstars and more.
Members will all be able to find a wallpaper they love and if their favourite superstar changes as it does from time to time then the easy to use search tools will help them find a great wallpaper to use and show off on their mobile device.
Vast selection of ringtones
It is not just wallpapers that are available to show your support for your love of WWE. The WWE Mobile Content Club offers and provides many different ringtones.
Members can download as many ringtones as is available. They could enjoy the Dusty Rhodes theme tune to wake them up in the morning and feel like a champ for example. Or a member can be very patriotic and enjoy the classic British Bulldog entrance theme. These are just two examples of the large number of ringtones available to members.
As was the case with the wallpapers you can also search by categories in the ringtone section. Therefore, members can search for their favourite SmackDown or Raw superstars for example and find the ringtone of their favourite superstar, Randy Orton for instance. This can also help a member prove they are a particular superstar's number one fan to all their friends by rocking their theme tune as their ringtone.
How about a wallpaper of Alexa Bliss on SmackDown Live free when subscribed?
WWE Video clip action
There are a large number of video clips available to all members that are part of the WWE Mobile Content Club. Members will receive major benefits from the service also as the number of video clips continuously grows as the WWE action is every week and the team will bring the latest scenes from matches to your mobile. All the latest content is available, whether you're a NXT, RAW or SmackDown fan, this website will have it all for you.
One of the major benefits of this website are the search tool features that are very helpful. Members can search for video clips by date as well as popularity. Also categories can be searched for such as Women Superstars, RAW, Classics etc. This means that finding your favourite WWE video clips could not be more easy or accessible. For example, the most popular video clips section is always a great way to find awesome scenes from WWE matches that a member may not have seen before. The classics section is also a great way to find some nostalgic great moments a member may have missed.
The WWE Mobile Content Club realises people live busy lives so may not be able to watch as much action as they desire. Therefore, weekly catch ups will be available to all members to make sure wrestling's biggest fans do not miss out on all the exciting latest action.
Enjoy content from the legend Randy Orton on the WWE Mobile Content Clubs website
Joining is easy and simple
The WWE Mobile Content Club is customer focused. The company uses a CS Eye tool which aids the company's customer service agents to deal with customer queries quickly. This can be used whether it is an easy question about the content or service of the website or problems relating to access.
Payment is hassle free as it can be taken directly from your mobile bill leaving members to enjoy as much WWE content as available.
Subscribe now
If all this appeals then why not subscribe to the club? Members will have instant access to this great product and enjoy the many benefits the WWE Mobile Content Club can give.