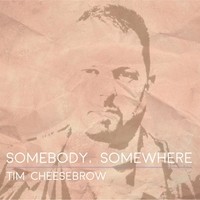 So this guy's last name certainly stands out but rest assured there is absolutely nothing cheesy or lowbrow about this artist or his music. This new single by Tim Cheesebrow is like a good, strong cup of coffee in the morning to start your day off right. "You Will Never Walk Alone" has just the right amount of flavor & texture making up one perfectly balanced blend.
This Minnesota-based musician offers the listener a very inviting sound that just makes you feel good period. With catchy melodies, riffs and vocals, this song is sure to please. The country and rock elements heard on "You Will Never Walk Alone" are a winning combo full of life. The lyrics and Tim's voice are just shining through here as the track comes across as a positive, happy-go-lucky number.
"You Will Never Walk Alone" is off of the full-length album titled 'Somebody, Somewhere', which I'm sure is terrific. Based off of this song alone, I am convinced that Tim Cheesebrow is cooking up something tangible for everyone to enjoy. Come grab a slice of "You Will Never Walk Alone"; You Won't Regret it!
http://www.cheesebrowmusic.com
By Jimmy Rae (jrae2@att.net)