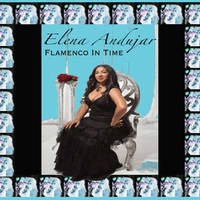 Elena Andujar sings with fire on the passionate "Flamenco In Time". Nicely drawing from Flamenco's storied past while incorporating futuristic flourishes, the pieces radiate with warmth. By far the true soul of the sound comes from Elena Andujar's highly emotive vocals that rise above it all. Instrumentally the sound incorporates elements of pop, acid jazz, EDM, and more into a satisfying whole. Propelled forward by a clear party spirit, the energy feels absolutely infectious. The colorful whirlwind of sounds works wonders as the songs take on a hypnotic, otherworldly quality.
With "Una Vez Mas" Elena Andujar opens the album on a noir-like tenor, letting the track build up gradually. On "Fever" Elena Andujar's masterful take on deep house feels so visceral, from the glistening keyboards to the colossal four to the floor beat. Going further down the rabbit hole "El Despertador (Club Mix)" brings psychedelic synthesizers into the mix, allowing for a full-boded, all-consuming sort of sound. Her vocals rest from and center with a commanding, fast-paced delivery. Aptly named "El Despertador (Matt's Latenight Workout)" offers a virtual kaleidoscopic take as melodies swim by in the majestic mix. Giddy rhythms take hold on the spry style of "Es Asi (Club Mix)". Perfectly bringing everything to a close is the gargantuan groove of "Es Asi (Matt's Peak Hour Mix)". Quite chaotic in nature, Elena Andujar allows the piece to delve into a wild and unhinged spirit.
Full of life, Elena Andujar delivers "Flamenco In Time" straight from the heart.
By Vince Somers