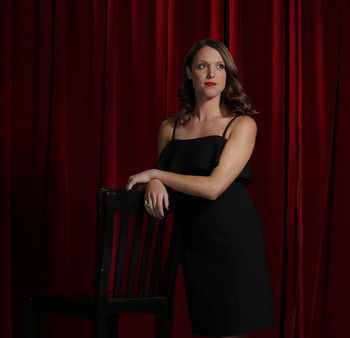 Here is a young artist who appreciates old style music but brings it back with a modern twist.
That is what NJ native Brynn Stanley has done in her latest EP "Classic". Coming off her pop album, "Hello, California" earlier this year she felt she needed to mix things up a bit. Brynn took a little pop with a sprinkle of jazz and blues and developed a delicious recipe.
At first Brynn worked the NJ lounge circuit for a while but needed desperately to make a change. She would soon embark on a move to sunny California where she found what she was looking for. For a long time she played others music and decided to write her own. Before she realized it she was penning one song after another. Yet she never expected it to be in the mixed genres of pop, jazz and blues.
Brynn has performed at numerous venues but she has had major success at the Mayo Performing Arts Center on the East Coast and when in California it would be at Vitellos, Hotel Café and Herb Alpert's Vibratos. She has always enjoyed performing in smaller intimate venues yet also relished the energy from a larger audience. Brynn has also played at the Metropolitan Room in New York and Shanghai Jazz in nearby downtown Madison. "Hello, California" was completed in the style of Michael Buble and Sara Bareilles whereas "Classic" delves into the music that is timeless.
"Classic has a timeless sound and it is reminiscent to some of the greats like, Frank Sinatra, Ella Fitzgerald, and Nat King Cole. It ranges from the Great American Songbook to the Beatles and the instrumentation varies from a small jazz ensemble to full big band to a lush string orchestra. We wanted to breathe new life into some of my favorite classic songs and brighten it up with a modern sound."
Brynn's music inspires a bit of Linda Ronstadt and Taylor Swift when she belts out her own lyrics. With the new project she felt inspired to re-create her own feelings when she heard the music of these legends as it did for her as a young girl. She admits that she wanted to add more tracks to the EP but is saving them for the next album.
For the new EP she worked with Jorge Vivo who co-produced it. Jorge is known to have worked with such talents like Michael Buble, Diana Krall, Josh Groban, Andrea Bocelli and David Foster. Brynn admits that in the beginning she was a little intimidated to work with such a high end producer but it all panned out perfectly. Tony Guerrero was the other producer on the project whose credits are with Dick Van Dyke, Jane Lynch, Paul McCartney and Freddie Hubbard.
As we mentioned earlier Brynn has played at many a venue. She had one of her "day-dreams" come true when she had an impromptu duet singing "Baby Its Cold Outside" with David Foster at Chateau Marmont. One of her ultimate goals is to sing a duet with either Michael Buble or Tony Bennett.
Currently, Brynn has relocated to New Jersey and will be working her way into the local scene as well as New York City to establish a foothold. After the New Year she is looking to expand her reach for the EP beyond the States. There has already been talk of a classic Christmas album for 2018. Be on the look-out for Brynn as she is slated for shows at the Gladstone Tavern on 12/15, The Madison Hotel on 12/23 and at the Natirar on New Year's Eve, all these venues are in New Jersey. The "Classic" EP can be found on iTunes and Amazon and all other digital platforms.
by Nick Christophers