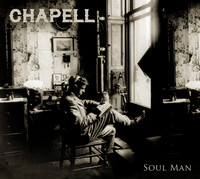 Chapell explores a kaleidoscopic sound with the ornate world of "Soul Man". Stylistically Chapell draws from a plethora of styles ranging from the blues to chamber pop to indie rock. Rather playful Chapell focuses heavily on letting every song tell its own story. Every track adds to the overall narrative that forms for the entire collection, one that documents heartache, loss, and finding true love. Infinitely catchy Chapell has a real ear for melody, as the melodic richness of these pieces becomes quite clear.
Things start out on the dreamy imagery of the title track and opener "Soul Man". Sung with such determination, the song builds up slowly. Layer upon layer of instrumental flourishes comes on strong in almost a painterly fashion. With a bright and sunny disposition is the electro-pop whirlwind of "My Baby Loves Me Now". Growing ever larger the song simply stuns, with the electronic elements working wonders alongside the incredible all-consuming choir that comes from the heavens. A little nod to classic rock comes in the form of "Watercolors". Featuring a driving rhythm, the song has a sense of determination. Vocals focus upon a night, the way a night can become truly enlightening. Ending the entire collection on a high note is the giddy attitude of 'She's On Fire". Little details make a big difference, from the jaunty fanfare to the seemingly infinite series of keyboards.
https://www.facebook.com/ChapellMusic/
With "Soul Man" Chapell goes on a grand journey, one that revels in the small details that make up a life lived to the fullest.
By Ron Dumont