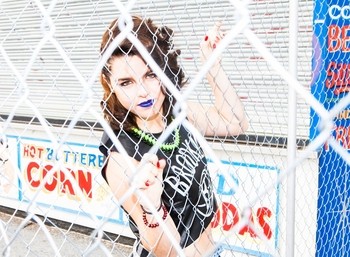 We are so excited to get to hang out with Annabelle today for the new edition of #5questions. Annabelle is NYC based and she is not slowing down for the holiday season it is full force. Her new single 'Magnetic' is steady rising and she has much to be excited for going into 2018!
Skope: Where are we talking from and how is your day so far?
A: We're currently talking from Full Sail University outside of Orlando, FL! My day is going pretty well, my schedule is crazy hectic but it's all about the daily grind, isn't it?
Skope: You study music business, how has that helped you as an artist and would you suggest it?
A: Above anything else, it's given me a more realistic understanding of the music industry. I started my artist career before pursuing my Music Business degree, which already blew away that pink cloud that used to sparkle over the music industry for me, but studying business in the industry really nailed it all in deep. Plus, I feel like I'm in better control of my career, as I have the knowledge to make most decisions on my own and prevent others from walking all over me. So, I would definitely suggest that every artist should get some sort of education in music business, even if it isn't a full-fledged degree. This is coming from someone who was taken advantage of a lot when I lacked knowledge on business in the industry. A lot of industry professionals hold online seminars and classes for free or little charge which are definitely amazing resources to make use of. I used to turn to them before I began at Full Sail, as well as read a lot of books about anything I could related to music business. I definitely believe that the more business knowledge you have, the better your chances will be as an artist.
Skope: Your song 'Magnetic' is out now. How long did you write & record that single?
A: 'Magnetic' is definitely an interesting song to talk about. It's actually a cover of a song by a popular K-Pop boyband called GOT7. Although my lyrics come from the original Korean translation, I definitely took some liberty when writing them and added my own touch with some of the phrases and key lines. It's not as easy to write translated lyrics as it may seem! But the recording process was so much fun that it seemed to go by with ease. When you're remaking a song with your own spin on it, you can really experiment and twist things up – which was a blast!
Skope: What 2 artists have inspired you most?
A: Growing up, I was all about girl bands so a lot of who I've become as an artist came from referencing some of my favorites – The Spice Girls, The Cheetah Girls, Little Mix, all of those fierce ladies. But I'd say I drew a lot of inspiration from British singer, Cheryl, and K-Pop girl group, Girls' Generation. I was constantly referencing back to them when developing my brand and finding a sound that resonated with me within my music. I'm all about girl power!
Skope: What is coming up for Annabelle and where you @ online?
A: I've really recently been working with myself lately. It may sound deep but I've been trying to find my true self lately and uncover what my end goals are and who I want to end up being as an artist. I recently placed a song in a Nicolas Cage movie, "Inconceivable", which sparked an interest in music licensing so that may end up being the direction I go in!
Online, the best place to interact with me would definitely be Instagram! You can find me at @annalepetri. I also have a Twitter, though I'm not nearly as obsessed with it as I am Instagram. You can find me there @Annabelle_POP. Lastly, for everything Annabelle, head to my website! The url is annalepetri.com and you can find pretty much everything I do there. You can also stream all my music on Spotify for there, so it's a nice place to find all my releases in one place!