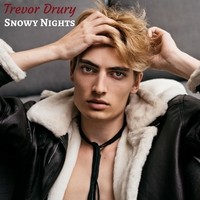 The personality and winning charisma emerging from Trevor Drury's new single "Snowy Nights" illustrates yet again, for any remaining doubters, Drury is far more than just a fresh pretty face on the pop music scene. His preceding single releases "I Know You From the 70's" and "Trip to the Water" each marked a significant leap forward in commercial and critical recognition and the new song goes a long way towards consolidating his standing as a compelling major force in the making with legs to sustain a long career. One gets the feeling listening to "Snowy Nights" that Drury is certainly interested in entertaining his audience and impressing them with a recording of immense musical beauty, but even a cursory listen to the lyrics and noting the care he exercises in delivering them, it's impossible to not believe Drury is attempt to transcend the every day in song and make intensely personal statement resonating with an universal human quality.
"Snowy Nights" is the most complete release yet from this recording artist. There's a near narrative of sorts defining the lyric, more internal than linear, and its autobiographical suggestiveness brings us a feeling of intimacy while the words retain enough overall meaning that any adult who has shared its experiences will likely connect with Drury's writing. It's worth noting that Drury composes his own material in a genre and style often dominated by producers or erstwhile song doctors and it brings, rightly or wrongly, a level of credibility to what he does far outstripping the achievements of many contemporaries. It, of course, wouldn't matter if Drury didn't demonstrate much talent as a writer, but he does in both a musical and lyrical capacity. "Snowy Nights" has a crystallized quality both musically and lyrically that suggests Drury entered the studio to cut this track knowing exactly how he wanted it to sound and never wavers from his vision for its final result.
The guitar work and piano playing on the track are its musical highlights. I can only assume that Drury is playing the piano and the effortlessly gliding quality of his playing. The piano adorns the guitar sound nicely and works as its principal counterpoint. Everything locks up quite well where you can hear both the thought that went into the performance and the nearly magical live quality that Drury and his musical collaborators achieve. Everything sounds very natural and never unduly plotted out. Trevor Drury's "Snowy Nights" is an unified musical effort in a way that far outpaces his two preceding admittedly fine singles and sets the stage nicely for further releases. It's one of the best singles released this year and should garner Drury a bevy of new fans. Furthermore, it proves naysayers wrong who claim that intelligent, sophisticated and accessible pop music is a thing of the past. This is a track that entertains and yet says something intensely personal.
Photo: Ray Kachatorian
https://www.instagram.com/inspiredmusicbytrevordrury/
http://www.officialtrevordrury.com
By – Pamela Bellmore