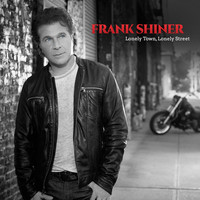 Frank Shiner's – Lonely Town, Lonely Street album, is a covers album with his own magnificently soulful approach to some old favorites, and he also has a Christmas cover out now, of the Charles Brown written "Please Come Home For Christmas" being played this holiday season in Macy's, Bloomindales and Kohls stores.
The album has been considered for seven Grammy's, and speaks volumes alone because of that, for an album of covers which remain truly relevant by any description. The Wilkes Barre, Pennsylvania native is also an established actor of over sixty plays and television productions.
"Please Come Home For Christmas" is a flawless update of the original and anyone who's covered it in-between. Traditional songs tend to be owned by everyone, rather than the artists who originally recorded them, because they can take on a life of their own by just about anyone who helps popularize them. Frank Shiner makes it easy to revisit a song, and he does it with the same level of excellence Charles Brown brought to the original yuletide carol.
I love the way he puts his own spin on this song to upgrade it with the respect and dignity it deserves. It's a very well-done cover of a very well-known song.
The Lonely Town, Lonely Street album, by this winner of two L.A. Critic Awards, is a no-less stunning compilation of outstanding live in-the studio recordings of some well-chosen classic pop, blue eyed soul and R&B covers that take the originals to a higher place without erasing their original qualities.
On the opening track, The Young Rascals huge hit, "How Can I Be Sure" he makes it his own without you forgetting what you're listening to, as he infuses it with a shot in the arm of energy that doesn't disgrace where it came from in any way, shape or form. It seals the entire deal from the first note, and demands to hear more.
Al Kooper and Blood Sweat & Tears "I Love You More Than You'll Ever Know" is more well-known by Donny Hathaway's 1973 hit version, and Shiner plays it much closer to the latter version, which a clearly felt influence heard in his voice.
Hathaway isn't easy to cover because of the vocal ability it takes, but it gives Shiner an opportunity to prove his vocals can reach the same range in order- to do it. This is well-continued on the next track, and then you get the undeniably awesome version of "She's Gone" by Hall & Oats. Already being a very soulful track, his voice just fits right into this on this laid-back version.
That's a lot of blue eyed soul applied so far, and it never lets you down on one track. They all bring something new worth hearing, and the title track, "Lonely Town, Lonely Street" (originally by Bill Withers), is no exception to that rule, with a most enormously satisfying cover that showcases his first-rate voice. The bottom end groove and slinky style remains in-tact, as a great nod to Withers.
Make sure and not miss the award-winning vocals of Leslie Mendelson on a Sam & Dave classic, as well as Shiner covering the likes of everyone from Van Morrison to Amy Winehouse and Justin Timberlake. They're all supreme covers.
Photo by Randee St. Nicholas
Todd Bauer