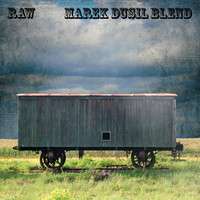 With a rich timeless air, Marek Dusil Blend embarks on a psychedelic folk journey on the spirited "Raw". Aptly named, Marek Dusil Blend sculpt an intimate world. Over the course of the album Marek Dusil Blend tells the tale of living to the absolute fullest. Reminiscent of Bob Dylan's soulful stream of consciousness take at times, the entire songs glow with tremendous energy. Instruments are picked with the utmost of care while Marek Dusil Blend allows the entirety of the work to display such patience while tracks build up with small, carefully selected gestures.
Audio Listening Link: https://marekdusilblend.bandcamp.com/
Tremendous grit comes to define the heartfelt opener "Time to Time". With a pastoral quality defining it at times the piece opts for great flexibility as things move forward with incredible skill. Stripping things to the essentials is the hushed awe of "Susanne" where Marek Dusil Blend lets the rhythm take a more languid, leisurely pace. Full of a nostalgic air the song chooses a reverent spirit. A jazzy take marks the relaxed vibe of "The Tree". Nimble percussion gives the song a spry take as every single moment feels carefully laid-out. Bright and airy, "The Tree" lingers in the mind long after it is over. Perfectly bringing the entire collection to a close is the organ-led beauty of "Through Darkness I Follow You". Nearly glowing everything about the closer radiates tremendous warmth.
https://www.facebook.com/MAREK-DUSIL-BLEND-152679491458069/
Proving himself to be an incredible storyteller, Marek Dusil Blend embraces the wild and beautiful moments of life with "Raw".
By Max Williams