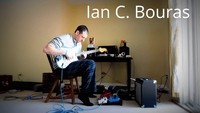 Guitarist and producer Ian C. Bouras, based out of the New York City area, has achieved the bulk of his acclaim thanks to his songwriting and guitar work with the New York City reggae/rock band AñaVañA. Their 2004 self-titled debut led Billboard Magazine to label him among the top songwriters in that year and 2005. He appeared on further releases from AñaVañA and emerged with his first solo release with 2007's A Cure for Reality. Ten years later, his latest solo offering Absence (live looping) shows his abiding skills for guitar work remain intact and at or near the peak of their powers while his skills at utilizing electronic atmospherics makes for an excellent combination on the album's fourteen songs. There's a real abundance of melody present, as well, in these songs and the production doesn't betray even a hint of its indie origins. Instead, it has a warm and living song that draws listeners in.
AMAZON: https://www.amazon.com/Absence-Live-Looping-Ian-Bouras/dp/B076LZ9HY4
Bouras is certainly far from the first guitar player to experiment or base his songwriting around electronic looping and other similar effects. Robert Fripp of King Crimson is, likely, the most famous practitioner of such a style with his Frippertronics performances, Bouras' own work recalls that to an extent, particularly with tracks like "Conversations with Strangers", the album's longest piece "Words Never Whispered", "Fear of Sleep", and the closer "Until We Meet Again". These tracks toy with outlines for melodies while primarily concentrating on invoking mood through texture. The first song, "Conversations with Strangers", and the later track "Fear of Sleep" are strong contenders for the darkest musical moment on Absence (live looping), but there's an atmosphere of spectral melancholy hanging over much of the release. There are some exceptions to this however – the track "Thoughts of You" is, arguably, the best example of Bouras lightening the emotional tenor some.
Many of the other songs are surprisingly reliant on melody, including the aforementioned "Thoughts of You" and other gems like the opener "While You Were Gone", considering the idiosyncratic nature of the album's sound, but Bouras never approaches melody in the way a popular songwriter might. Instead, he elongates its development in many songs and waiting for it to resolve itself becomes the central avenue through which Bouras makes these performances pay off for listeners. The instrumental nature of the album and its penchant for exploration might seem to close it off as a potential listening experience for some, but it remains a remarkably accessible work throughout because even casual listeners can identify with the frequent glimmers of melody in even the more diffuse moments. For all of his daring, Bouras has a strong grasp of what makes a song work on a basic level. It makes Absence (live looping) a well-rounded aural experience with musicality and theatricality working in concert for a memorable effect. The miles and years since he first emerged haven't dimmed Ian Bouras' desire to push the limits of his skill beyond his comfort zone and this twelve song releases testifies to his continued willingness to test the limits of his talent.
I-TUNES: https://itunes.apple.com/us/album/absence-live-looping/id1298787994
Jason Hillenburg