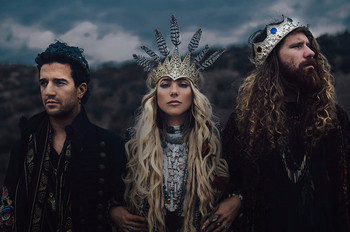 Following back-to-back #1 iTunes ranking for their first two EP's, "Head High" and "High Enough," recording duo Alexander Jean featuring Mark Ballas and BC Jean, will release their first Holiday single November 30, 2017. "We Three Kings," Alexander Jean's version of the classic Christmas carol, shines with the duo's trademark style of raw rhythmic pop/rock. The husband and wife duo will also release a music video for the single on that same day.
"We felt like we could do something earthy and cool with this particular song," say Mark and BC, who are currently earning rave reviews performing on acclaimed electronic violinist and performer, Lindsey Stirling's "Warmer in the Winter Christmas Tour." "This version of the holiday classic could be played any time of the year and be enjoyed. It's not your traditional Christmas carol," they add. The single also features the soulful voice of vocalist Casey Abrams, and is the first single to be recorded in the newlyweds' new home recording studio.
Since the debut of Alexander Jean's initial EP, "Head High" in 2016, the husband and wife duo have taken the music scene by storm. "Head High" shot to #1 on iTunes' Singer/Songwriter chart and then rose to the chart top a second time. Their power pop ballad and debut single "Roses and Violets," also hit #1 on the iTunes singer/songwriter chart and #6 on the iTunes overall chart, reaching the Top 20 on Billboard's Hot 100 "Bubbling Under" chart. The song had over 3 million Spotify plays and reached Top 10 in 7 countries around the globe. Their single "Thief," hit #5 on the iTunes singer/songwriter chart. The duo's second EP, "High Enough," was released on June 26th of this year and instantly rose to the #1 spot on the iTunes Singer/Songwriter Chart and #40 on the iTunes Global Album Chart, with Alexander Jean capturing the iTunes #1 Trending Artist spot.