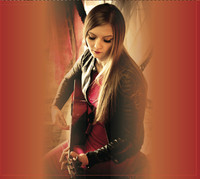 Rebecca Lappa's voice sings with fiery passion on the elegant "Spirit EP". Lyrics focus upon the great moments in life, the ones that come to truly define a person. Vocals possess a great range, going from soaring into the heavens to more hushed, intimate moments. Throughout it all her uncanny ear for melody allows the country-western spirit to truly grow and expand into beautiful terrain. Instrumentally vibrant, a great deal of color is incorporated throughout, allowing from organs and guitars to intermingle in a glorious way.
Things start off just right with the muscular all-consuming energy of "Alberta, A Love I Can't Fight". Easily the highlight of the collection, Rebecca Lappa opts for a commanding presence, letting multiple layers of sound to build up into a virtual rush of sound. Far more low-key, "Looking For Amelia" takes on a reflective approach, allowing everything to unfurl with a simple grace. Keeping a light touch works wonders while Rebecca Lappa allows the track to embody a literal journey through the ups and downs of a life lived to the fullest. Martial drums add to the overall intense atmosphere of the epic scope of "Valiant Of Vimy". Perfectly ending the collection, the playful quality of "Worth My Prayers" simply stuns. From a dreamy organ swell all else comes into focus lending the piece a heavenly hue.
With the "Spirit EP" Rebecca Lappa is a powerful addition to the fine singer-songwriter tradition, crafting thought-provoking stories that linger in the mind.
https://www.facebook.com/RebeccaLappaMusic/
By Paul Cushman