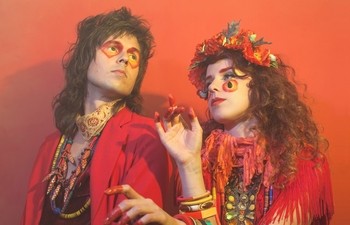 Formed in the Big Easy, psych-pop, art duo Moon Honey have returned with another delightful gem, "Betta Fish." The track is out today on Apple Music and Spotify and is their first release since the critically acclaimed 2013 debut "Hand-Painted Dream Photographs", which quietly sent shockwaves throughout the underground, bubbling up with praise courtesy of The New York Times, Noisey, NPR and more.
The duo includes lead vocalist, visual artist and lyricist, Jess Joy, and guitarist and composer, Andrew Martin, and together they've created an out-of-this-world concoction of magic that transports you to another peculiar and exciting realm of sound and vision.
A wild red-headed musical enchantress and multi-faceted artist from the bayou of Baton Rouge, Jess' je ne sais quoi extends beyond her primal vocal conjuring's to handmade mysticism—from personally directing D.I.Y. stop-motion music videos and assembling surreal collages to building paper maché stage production and sewing period-correct costume pieces. Born in the Big Easy and raised on the Cayman Islands as an anachronistic disciple of Jimi Hendrix and Mark Bolan, Andrew speaks through six-strings often while decked out in mod velvet threads. The union of these two dissonantly kindred spirits yields a totemic pastiche of psychedelia, rock, soul, performance art and good old-fashioned voodoo.