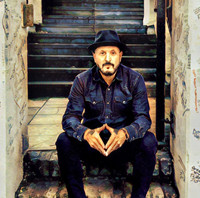 Chris Sullivan sings about a little slice of Americana with the joyous celebration of "By The Light Of The Radio". By letting country, the blues, and classic rock come together the track has a communal, all-consuming spirit to it. What truly ties the song together is the passion and fire of the vocals which gives everything a true sense of life. Lyrics outline the joys of growing up, the journey that the world often offers. Instrumentally rich the way the guitar and drums kick up in just the right way gives the song a serious amount of muscle with its emotionally resonant groove. The layer upon layer approach works wonders as the entire thing positively glistens with hope.
Acoustic guitar and harmonica give the song a rustic introduction. Nicely setting the mood the way the piece begins to grow feels triumphant. The defiance that pours out of the story gives the entire track a raw, wild quality. Gradually the rest comes into focus quite quickly, with the usage of hand-claps and the electric guitar further emphasizing the jubilant quality. With a tender ode to music's past, the message reflects upon the comfort that music truly brings. Over the course of the track everything comes together with such bright vibrant color. For the final stretch Chris Sullivan lets loose, giving the piece an almost honky-tonk quality.
With "By The Light Of The Radio" Chris Sullivan delivers an instant classic, one whose message has a timeless quality.
By Max Wynn