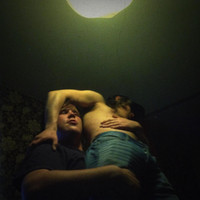 Timi Alexander proves to be an adept storyteller on his powerful self-titled debut. With clear nods to the gloriousness of 90s alternative rock and hip hop the songs possess such color. Incredible energy flows through the pieces while they reflect upon relationships, the divisiveness of the current international political climate, and the overall unease that appears throughout the world. Neatly capturing the tension-filled zeitgeist, the way that Timi Alexander lets these tracks build up feels particularly masterful. Additionally, these pieces nicely reference each other, working together as a fully realized, coherent whole. Little flourishes go a long way, from the heavy-hitting beats to the elastic grooves that are peppered throughout.
After the short "Intro" things truly get started with the buzzing meditative scope of "Cold Leather". Easily one of the highlights of the album, Timi Alexander sings with such intimacy as the many layers interact in dazzling ways. Highly infectious with its gorgeous melody and leisurely groove, "Heartblood" lingers in the mind long after it has ended. Quite masterful, every single flourish adds to the piece's power, giving it an ornate luxurious feeling. Things are stripped down to the essentials on the bluesy, heartfelt "The Ballad of a Keg Head". Multifaceted "Bonus" works wonders with its stylish, late-night vibes. Ominous to its very core, "Deadline" has an eerie otherworldly quality to it. "Glide" nicely embodies all that came before it, as Timi Alexander weaves a weird otherworldly scenario within its epic joyous sprawl.
With his self-titled debut, Timi Alexander's intelligent, thought-provoking lyricism is filled with fire and passion.
https://www.facebook.com/timialexandermusic
By Krista Joanne