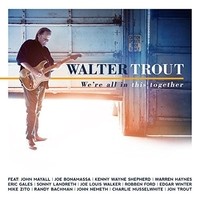 Walter has staged a remarkable comeback from some serious health issues, and is sounding and playing as good (if not better) as ever. This guy could play air guitar riffs in his sleep and wake people up. He's enlisted a lot of blues/rock talent to complete this latest offering. He has an influential guest appear on every track. Kenny Wayne Shepherd, Sonny Landreth, John Mayall alumni Charlie Musselwhite, Mike Zito, Robben Ford, Warren Haynes, Eric Gales, Edgar Winter, Joe Louis Walker, John Nemeth, Jon Trout, Randy Bachman, John Mayall, and Joe Bonamassa all appear here.
Gonna Hurt Like Hell is an up paced song with Kenny and WT trading licks. The Other Side Of The Pillow is a slow bluesy song reminiscent of the early blues featuring Charlie M. on harp. She Listens To The Blackbird Sing has a part Allman Brothers, part Doobies feel to it. Somebody Goin' Down is a good tune with Eric Gales providing some funky highlighted licks. She Steals My Heart Away features Edgar Winter adding some nice sax touches. Crash And Burn is an SRV styled song with Joe Louis doing much of the fret work. Got Nothin' Left is a catchy rock/blues thing with Randy Bachman lending some trademark riffs. The Sky Is Crying is the only cover song on this release. The Elmore James song made famous by Stevie Ray Vaughn is given first class WT and Warren Haynes treatment here. Mr. Davis is a tribute to Jesse Ed James, one of WT's early influences.
Walter admits that he had a ball trading licks with all of his buddies while recording this. This is one of my favorite blues offerings in a long time. Each cut has it's merits. Sounds like it was fun to make, and it's sure fun to listen to!
By R.M. Engelman