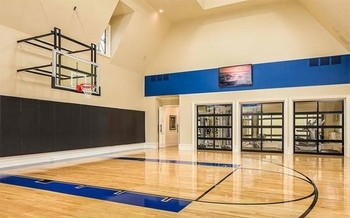 Playing basketball is an amazing pastime for millions of people from all over the world. Having a home basketball court allows you to enjoy unlimited fun as you play your favorite game with friends and family. Before playing at a home basketball court, we recommend you to read some basketball training tips. So, if you want to improve your basketball skills, click here. In addition, if you or a member of your family is aspiring to join a reputable basketball team, then having your own court will really assist in training.
Despite the many benefits of having a home basketball court, most people assume that the project must be done by professionals who will often charge you a lot of money to set up the entire court. However, did you know that you can do it yourself when it comes to transforming your backyard into a topnotch basketball court? Well, if you've always dreamed of having your own home court, then you'll be happy to know that you are only 4 steps away from making your vision a reality.
Get a suitable location
Before you embark on the DIY project, you need to asses where the best location would be to create a basketball court. An NBA court is supposed to measure 50 by 94 feet while high school courts tend to be a bit smaller lengthwise, measuring about 50 by 84 feet. Decide whether you'll have a full court or a half court depending on how much space you have. Do you live in an apartment complex and would still like to build a basketball court? Consult the appropriate resident's organization to seek the necessary permission before embarking on building the court. Also be wary of building a basketball court near windows or parked cars so as to prevent accidents.
Get the right equipment
After deciding on the location, the next step would be to gather the necessary supplies. Most of these items can be found at your local hardware shop. You will need chalk, basketball pole hoops, a stencil marking kit, a tape measure, a shovel and line marking paint.
Get the ground ready
After acquiring the necessary equipment, now the fun part begins. Start off by using your shovel to level the ground of your future basketball court. Remove any rocks or other foreign objects. At this stage, you'll need to decide what material you want for the foundation and surfacing. While hardwood is the most common material for indoor basketball courts, outdoor courts require a different material. The best options include asphalt, concrete or pavers, all of which are durable and look amazing.
Get painting
Choose a synthetic surface paint that can work well on your foundation material. It's very important that you use the best quality line marking paints which will not fade fast. You can play around with different paint colors since after all, it's your personal court and you can customize it in any way. Ensure that you're properly using the court stencil marking kit to help you know exactly where to draw the lines. In case you didn't get a stencil, use your tape measure and a piece of chalk to sketch the outline which you'll paint over.