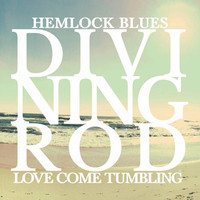 Sung with true heart and grit, Divining Rod's "Hemlock Blues/Love Come Tumbling" represents folk's glorious future. The energy that drives these two piece alongside is truly spellbinding, with the impressive guitar work giving it a sense of life. By far the true soul of the sound comes from the reassuring, warm vocals that tie the two tracks together. Narratives form over the course of the two pieces, reflecting upon the world and its oftentimes strange ways. Highly articulate, Divining Rod's work recalls the thoughtful work of the Fleet Foxes, complete with their uncanny ear for melody.
Audio: http://diviningrodband.com/
"Hemlock Blues" dives right into the swing of things, opening the collection off with such vigor. Rushing forward in a fantastic rainbow of colorful hues, the way that the many layers interact in unexpected ways. With the just right western twang to the overall process, the gradual evolution of the track recalls a yearning for a quieter, peaceful world. This setup results in the joyous conclusion of "Love Come Tumbling". Downright soothing, the piece delves into a temperament akin to watching a running river. Nice and spacious, with this track Divining Rod allows a great deal of space to be explored. Full of intricate detail, harmonica, drums, fuzzed-out guitar, really all of it works itself into a gorgeous groove. Towards the end of the song everything simply dissolves into a form of contentment.
https://www.facebook.com/diviningrod
Divining Rod's "Hemlock Blues/Love Come Tumbling" surges through with impressive storytelling, clever wordplay, and intricate arrangements.
By Beach Sloth