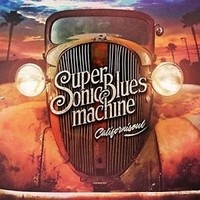 Supersonic Blues Machine is made up of Fabrizio Grossi on bass, Lance Lopez on guitar/vocals, and Mr. Energy himself, Kenny Aronoff on drums. SBM did much of the songwriting on this. This well connected trio has enlisted some of their cohorts to lend their talents to this release. Guests Billy Gibbons, Robben Ford, Eric Gales, Steve Lukather, Walter Trout, all show up in fine form.
I Am Done Missing You is a slow almost reggae style song. Somebody's Fool has Robben Ford lending his riffs and style. L.O.V.E. uses some harp accents on this forgiveness song. Broken Heart co-written by Billy Gibbons features his intro and good old Texas vibe. Elevate is a nice middle paced blues offering with that trademark Erik Gales touch. The One has an almost Santana beat and vibe.
Hard Times is a slower ballad with a nice feel to it. Cry uses a Fender Rhodes to give this ballad a 70's feel to it. The Stranger is delivered in a funky style. What's Wrong is a ballad done in a slow moody way, with Walter Trout delivering this type of lick that he does best. Thank You is a jumpier piece with some horn accents. This Is Love is a middle paced song that also has some added Hammond and Rhodes accompaniment.
Take a simple test like I did listening to this. You already know who the guest artists are. Put your axe knowledge to the test. Listen to the tracks and tag the guest artist to the track and see how you've done. A nice assembly of rock/blues collaborations.
By R.M. Engelman