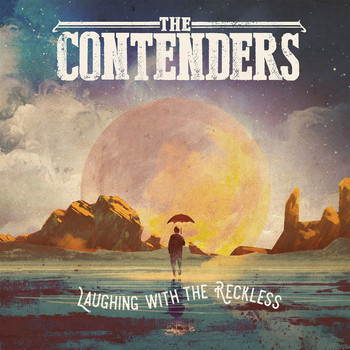 Americana/folk-rock duo The Contenders (singer-songwriter Jay Nash and singer/drummer Josh Day) is set to release its debut full-length album, Laughing with the Reckless, on November 3, 2017 via Rock Ridge Music (with distribution via ADA). The record is very much about the perseverance of hope in dark times along with the powerful connection of music, old friends, and loved ones, all delivered with a wry and wistful narrative, and is the follow-up to their 2014 EP, Meet The Contenders. Dear friend and fellow troubadour Joey Ryan of The Milk Carton Kids has said that it is not just an album of "infectious rhythms and sublime two-part harmonies," but one that conveys a balance of hope with a unique and powerful sense of heartbreak.
The pair makes the sort of music found in the intricate and varied tapestry that is real Americana—full of grit, with a steady heartbeat and a hint of honky-tonk—writing songs that speak of wanderers and highways, lovers and losers, good times and missed chances, all of it with a ferocity born of hard work and honed skill. The Contenders' raucous foundation of rhythm and harmony is based upon such simple things—glorious two-part vocal harmonies, a guitar and drums. Wrote Country Weekly of the pair's music: "The duo's sound paints a picture of open stretches of road as well as lazy days at home—sonic comfort food constructed on a bed of groove and storytelling."
What inspired you to write this song? What is it about and what do you hope it says to listeners?
Josh Day: This song began as a bit of a protest song against the untimely death of Eric Garner. Jay and I were discussing how this situation escalated so quickly, and within a matter of seconds, the unarmed man was unconscious, and would remain that way for an hour, when he then passed away. There was a lot of unrest going on in America at the time, and this just seemed to escalate it all. Especially when the officer was not indicted, and the case was settled out of court for $5.9 million. We continued to discuss the political climate and unrest of our country and how you just can't trust anything you hear. We kept coming back to how absurd politics had become. But, little did we know what was yet to come…
We trust that people can be better to one another. That politicians can tell the truth. And we as caring individuals deserve to know the truth. Just be a good person, and love one another. At the end of the day, happiness is what we strive for, and I truly believe the way for that to happen is through communication, truth, love, compassion, and perseverance. I'll get off the "love soap box" now. :)
How was it working on the album version of this song in the studio?
Jay Nash: At its core, this is a folk song and it stands up pretty well with just the bare elements that exist in the live version. That said, we wanted the record to feel exciting, without being cheerful. It took us a minute to figure out what elements were going elevate the message and melody of what is essentially a narrative of outrage, protest, and perseverance, without overshadowing it.
Josh Day: I absolutely agree with Jay here. And for me, the recording process was really fun. I kept hearing a Paul Simon "Rhythm of the Saints" kind of thing percussively. So, I decided to go down a percussion rabbit hole to see what I could come up with. I'm sure it was way too much, so I imagine we cut a lot of it. Sometimes, less is more.
Seeing you two performing up close and personal like this really drives the song and the harmonies home in such a direct way. Who shot this clip for you?
Jay Nash: This video was shot by Vermont based videographer, Teo Zagar. He's great.
It says this clip is live from Precision Valley. Tell us more about Precision Valley and your decision to shoot this video this there.
Jay Nash: "Live from Precision Valley" is a video series that I curate out of my studio, here in Vermont. I used to live in Los Angeles. For seven years, I ran a music venue called Room 5, and that experience helped me build a lot of relationships among singer-songwriters and bands. So, from time to time, I invite my old friends up here to play a show in town and we also carve out time to write and record, here in the studio, and shoot live performances for the series.
What is your favorite thing about recording as a duo?
Jay Nash: Josh and I have a great musical chemistry and, being that it is just the two us, it is really easy to take a song and make it ours. Most of the time, our instincts are very much in sync with one another with respect to the approach on a piece of music.
Josh Day: I really enjoy our stripped-down versions of the songs mainly because that's how we write most of them, and the story/message/lyrics aren't covered up by any added instruments or production.
What is the hardest part of being part of a duo?
Jay Nash: The toughest part about being in a duo is that this orchestration demands a lot from each of us. The guitar part and drum parts both have to take up a lot of space and do the work of a full band arrangement, and this needs to happen while zeroing in on a resonant vocal harmony. So, if one of those elements isn't spot on, it feels like a wheel has fallen off the bus. It's a bit of a highwire act, but it's an absolute blast.
Josh Day: This is a bit of a loaded question. Ha ha! Jay and I are kind of like brothers of sorts. Well, more like step-brothers, I would imagine. There are plenty of disagreements, as we are just very different people. But, at the end of the day, our goal is the same. We focus on making music we believe in. Music that tells a story. Music that feels good, and is rich in harmony. It's definitely more challenging on a musical level with a duo, since there are only two of us, and there's nowhere to hide. We both have to play lead and supportive roles at the same time, and that can be tricky with this instrumentation. The goal is to be able to create a full sound that is obviously musical, but also supportive of the lyrics. I would say the hardest part is probably just always having to make sure we're on the same page. Communication is the key, as it is in any relationship. There is a lot of give and take, and you have to do your best to check your ego at the door, and be flexible in almost every situation. That's not easy for either of us… especially Jay. Ha ha!