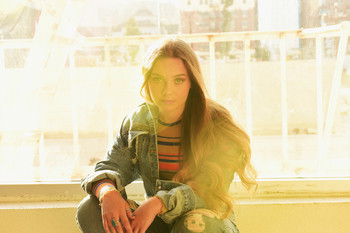 16 year old singer-songwriter Kylie Spence is thrilled to release her latest single "The L Word" and announce her signing to Jungle Strut Music! The track was premiered yesterday, October 23rd, with Celeb Secrets, who produced an on-camera interview and live session with the 16 yr old songstress. "The L Word" is a twangy pop tune dripping with uneasy teenage love and Kylie's incredibly earnest vocals.
"The L Word" follows the release of Kylie Spence's hit single "Lying Eyes." The debut single immediately hit iTunes' Hot Tracks chart the week of July 21st and has already accumulated over 148,000 Spotify streams, with 30,000 monthly listeners upon release. "The L Word" is on track to follow the success of "Lying Eyes," with its soft, infectious quality and lyrical ingenuity. "The L Word" is also Kylie's first release since signing to Sony imprint Jungle Strut Music!
Kylie Spence wrote and recorded her first song when she was only 12 years old and, from then on, she's been hooked. She quickly recognized the power in using her voice to give her lyrics a deeper meaning and eagerly began refining her skills in piano, guitar, and ukulele to assist in her recording endeavors. Shortly after discovering this drive for performing, Kylie was hit with an autoimmune disorder and found herself unable to sing due to her respiratory health condition. So, instead of singing, she wrote.