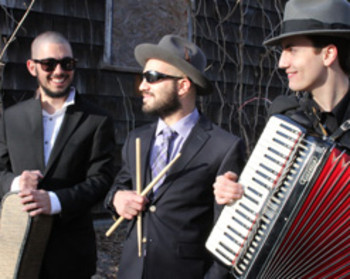 We'll put the warning right up front. These are two of the last songs you're ever going to get from Silhouette Rising. Not because demand has slackened for the band's music – on the contrary, the group's legend continues to grow well beyond the city limits of Boston. These musicians retain their remarkable power to entertain and inspire. No, the story of Silhouette Rising has reached its conclusion for a different, altogether regrettable reason. Frontman, songwriter, and creative firebrand Cameron Liberatore suffered terrible injuries in a car accident in 2014. Although he continues on his long road to recovery, he won't be returning to musical activities any time soon. One of the most charismatic figures in the Northeastern indie underground has been stolen from us by fate.
http://www.facebook.com/SilhouetteRising
Yet Silhouette Rising refuses to dwell on tragedy. This is an uplifting band: passion for life and its infinite possibilities has always been apparent in the songs. They've extended that optimism to the Happiness III project – an album of tracks built from Liberatore's musical ideas, and one that cements his legacy as one of Boston's most inventive and passionate songwriters and bandleaders. So beloved and respected is Liberatore that Silhouette Rising had no trouble attracting superior musicians to help them realize the Happiness III project, including Howi Spangler of Ballyhoo! and Tye Zamora of Alien Ant Farm.
But Happiness III is more than just a tribute. It's also an opportunity for the rest of the group to demonstrate their formidable skills. Just like the rest of Silhouette Rising's recorded output, the album is bracing, tuneful and muscular, filled with memorable melodies and dramatic performances. There's a bittersweet quality to the new songs, too; a sense of the ephemerality of life and a newfound determination to make every second count. Ironically, it might well be the fullest realization of Liberatore's vision.