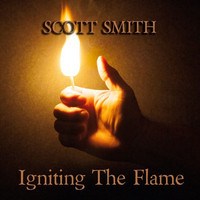 Scott Smith delivers a blistering, bluesy take on the classic rock sound with the surefire "Igniting The Flame". Neatly drawing from folk, country, all anchored within a careful singer-songwriter tradition the pieces linger in the mind. Riffs roll across the luxurious hyperactive pieces. Tempos rush through with a truly muscular presence. By far though the true heart of the collection comes with the strong, poetic quality of the lyricism. Delivered with the utmost of passion everything works in unison to create a spirit that feels positively infectious.
Easily the highlight, "Igniting The Flame" simply stuns. From the fiddle work to the backup vocalists, it all adds to a crazed manic kind of energy. Much more laid-back "My Soul To Keep" chooses a leisurely groove, complete with a soulful saxophone adding to the overall tenderness of the track. A shaggy dog story emerges on the flexible, organ led saga of "Rolling Home". With a bit of soul, the way the piece evolves gives it a sunlit quality. Distortion rules supreme on the playful humorous "Eating Like Hippies". Incredibly hyper-detailed the song speeds forward in a glorious blur. A western twang emerges on the powerful swagger of "Drop Kick It". Guitar and organ work in unison on the infectious melody of "Bulls Eye To My Heart" where everything mixes into a majestic whole.
Aptly named, "Igniting The Flame" shows off Scott Smith's sense of defiance as everything merges into a singular whole.
http://www.scottsmithband.com/
By Max Chuancey