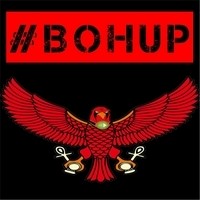 Listening to this Mixtape made me think back to the Golden Age of Rap/Hip-Hop when things were simpler and the music was hype. My very first Rap record was The Fat Boys LP from 1984 and that's when I fell in love with this art form called Rap. Even at just five years old, I knew at that very moment I was hearing the newest and coolest, breakthrough sound that was totally original, uninhibited and fun. So, I was hooked from that point on but it's safe to say that mainstream Rap/Hip-Pop these days has lost that special spark and magic from the 80s. But The Band of the Hawk and their new release '#BOHUP' has rekindled that spirit within me taking me on a trip down memory lane where I got a Load of The Fat Boys…and where Rap itself was born & alive to me personally.
The Band of the Hawk is comprised of numerous artists that put their own spin on all 13 tracks and each member brings his/her own unique qualities to the recordings. Five of the primary players on this album are: Noah Archangel, Kool King, Ash Ra, P.EY3 and Grynd Seazon with so many talented up-and-comers and contributors leaving their mark on '#BOHUP'. The beauty of this compilation is how everyone came together to deliver a raw & unfiltered approach with no technicalities, no rules and no fancy gimmicks or digital enhancements. You get Rap/Hip-Hop in it purest form and how it should be thanks to The Band of the Hawk reawakening the Hip-Hop world. '#BOHUP' stands for Band of the Hawk Underground Pyramid and The Band of the Hawk is also known as The BOHUP Crew staking claim to being "Def on the Battlefield". BOH is slicing and dicing the competition coming at you from all angles with Southern Rap influence uniting with East Coast and West Coast styles. Throw in old-school flavor and The Band of the Hawk is swooping by and flying high.
Audio Link: http://www.bandofthehawk.com/tracks/a/bohup
The record starts up with "Meditation" that has a nice 'n' smooth flow & cool swag that sounds like a Tribe Called Quest vibe to me. Next up, take a bite out of "Animals" that is wild & untamed and provides an off-kilter beat that simply works. Rolling along, "My Ni@@a" is rough, rugged and raw with rhymes spillin' out everywhere in an all-out Street Hop battle. Track five, "Mocean", is swift 'n' steady where the lyricist is attacking the mic with authority. "No Disrespect" is droppin' knowledge on listeners with mindful lyrics and a warped effect that is just bonkers. Track seven, "Burberry Trench" has me thinking of one of my favorite groups The Beastie Boys where you'll be thinking "Slow and low that is the tempo". "Burberry Trench" is so fresh and so fly where I was swayin' to the beats and literally tappin' my pen on my pad to this joint. The BOHUP Crew will karate chop your ass with scrappy sounds on "Bruce Lee" where it's a 1… 2…3 knockout. Get outta the way and blow the horn on track 10, "Ruckus Hawk Minor", where the tenacious bunch is going full speed ahead mowing down any MC's or haters in their path. The listener will hear The Band of the Hawk grindin' it out and risin' up to the skies on "Pyramids" and then get a dose of reality and splash of coffee in your face on the Bonus Track "Wake Up". The project ends on a different note where a curve ball is thrown in the form of a strong female vocalist delivering a soulful performance on the final Bonus Track "Redbone". One will also detect catchy guitar pickin' and a finger-snappin' groove that came out of nowhere but too good to deny.
In the end, The Band of the Hawk is leavin' it all out to dry and not holdin' back on '#BOHUP'. If you truly respect the roots of Rap/Hip-Hop then you owe it to yourself to check out this dynamite mixtape. The Rap game needs The BOHUP Crew and The Band of the Hawk needs the Rap game where together they can create magic again and redefine the scene.
By Jimmy Rae (jrae2@att.net)