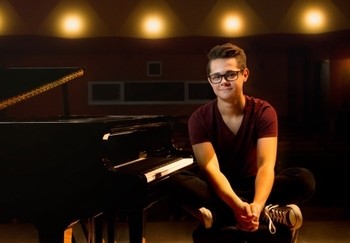 "Ask me about ambition, because I've got it in spades", sings New Jersey native John Paciga in the title track to Other Side of Town, his debut album. He's not kidding. Paciga makes grand, inspiring, theatrical piano pop – the kind with well-built verses and bridges that lead to instantly memorable choruses. Paciga's songcraft leaves plenty of room for expressions of instrumental excellence, too, and he takes full advantage of it, decorating his songs with acrobatic arpeggios, rumbling left-hand bass figures, and firmly-struck chords. He stands, firmly and proudly, in the great tradition of piano rockers: Elton John and Billy Joel, Ben Folds and Andrew McMahon, and more recent heroes of the eighty-eight like Tobias Jesso Jr. and A Great Big World. Yet Paciga has a sound all his own – a contemporary spin on a time-honored approach. And although the sound is classic, Paciga himself is just getting started. This remarkable artist is 17 years old.
Gotta Play, Paciga's first EP, was both a bold demonstration of ambition and an expression of the artist's desire to shake the world with his music. On it, Paciga established himself as a passionate lyricist, a clear-voiced and appealing singer, and a pianist of daring and skill. Yet as exciting as that set was, Other Side of Town is Paciga's first true and firm handshake with the world. It's a varied set: in ten songs, Paciga showcases the breadth of his musical interests and the full range of his talents. The album is unified by his storytelling, his sonic signature, his voice, his attention to the architecture of his songs, and, most of all, his dazzling piano.
It's there on "Lightning," a gorgeous track that opens with a winding treble riff reminiscent of the music on Joel's early albums and dances through the jazz arrangement of "Quintessential Sinner". It's practically a second voice on a pair of narrative songs – "Loverboy's Lament" and "How A Girl Can Make You Feel" – that foreground Paciga's youthful exuberance. That piano pounds away, 1950's-style, on the strutting opening to "Sometimes I Wonder" before settling into a confident, irresistible groove. And it provides the aching accompaniment for Paciga's self-reflection on "Other Side of Town," a song that examines the singer's dedication to his music and his desire to follow his own course in life. Throughout the set, the piano is at Paciga's command – no matter the sentiment he wants to express, he finds a way to underscore its meaning and amplify its resonance through his instrument.
The album's first single "Tomorrow's Comin'" is an astonishing testimony to John Paciga's songwriting skills, tenacity and verve to "tell it like it is" with sage wisdom that truly belies his years. He carries the torch for all of us who fight the good fight every day with absolute resolve and speaks directly to the human family through his profound talents; "Tomorrow's comin', and it's comin' fast, so don't waste your time on yesterday". His clarion call is clear: Live in the moment, don't go down without a fight and please…. take this message I share with you and run with it! Paciga is impossible not to root for and as he begins his senior year in High School, we're left to enjoy Other Side of Town and ponder what's to come from this extraordinary young man.