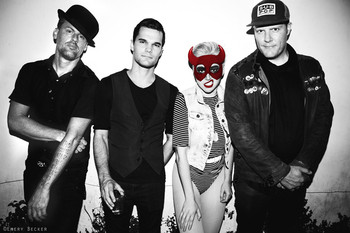 "Los Angeles rock quartet NEW EViL's latest video features a full-on fight scene in the style of hit action film Atomic Blonde. In the clip, lead singer Sophia Anita Reyes—a real-life trained martial artist— battles thugs to the propulsive track "Pale Skin Latin Girls" off the group's A Witch Shall Be Born album.
The fighting video concept was a longtime passion project for Reyes, who also combines her love of martial arts with music on stage by kicking and punching her way through the group's high-energy live shows. Says Reyes, "My aggressive stage style seemed to inspire others so I thought, this is something I have to create next." With the help of her boxing enthusiast brother, Jeremy, and the video's director, Jaime Reed, Reyes was able to bring her vision to life.
The music video continues a story first established in NEW EViL's previous video, "The W."
In that video, the band stumbles upon a crystal that awakens a powerful witch (played by Reyes) who is trapped inside of a tomb by a mysterious Man in Black. The new video reverses the scenario: the band has now been kidnapped by the Man in Black and the witch, along with her magic crystals, has to fight her way through an abandoned warehouse riddled with thugs in order to free her band.