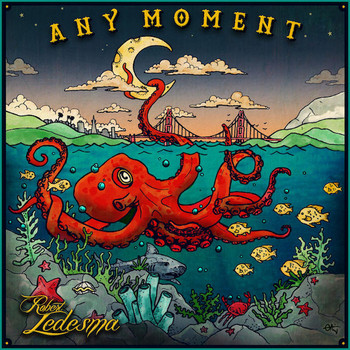 So we are so excited to have Robert Ledesma here @skopemag. Robert is staying super busy with his new album 'Any Moment' and new videos as well. Join us as we chat with Robert about all that & much more!
@skopemag: Where are we talking from today and are you excited for Halloween?
Today I am in Berkeley, California starting this week off great! I am excited for Halloween as this year a big portion of my friends are going "all out" on costumes. Should be a blast!
@skopemag: If you were to mention the main project you are promoting what would that be?
I am currently focused on continuing to push the new release as I hear from many people in our reggae community that they had not heard the record yet. So we are focused on spreading the word of this release as much as possible and also focused on hitting new markets outside of our traditional "Cali Roots" reggae scene.
@skopemag: Has there been any new videos or audio posted that you want the people to hear?
I recently released a promo video to announce the live band project as a way to announce that we are "now booking". This new album started as a solo-artist release but has now extended into a full-on live band project. This is available on our Social Media pages as well as on YouTube under the Reggae Speaks channel.
@skopemag: Would you say that streaming on sites like Youtube and Spotify have been good for the music business?
I think it's a double-edged sword. The ability to have potential fans stream your music before purchasing/supporting your career is a great way to build exposure. Now people are considering spending a flat monthly rate to access the entire Spotify database. This is great from a consumers standpoint as who doesn't want every album from their favorite band at their fingertips at all times?! I do notice the trend of streaming services are dominating in terms of iTunes and hardcopy cd sales.
@skopemag: What is coming up for Robert Ledesma and where you @ online?
The live band project will be starting to perform in the near future starting in the San Diego and Southern California area. The next run will be making its way toward my home base in the San Francisco Bay area and cover most of Northern California. We are in the works of working some out of state shows including the East Coast as well as out of the country.