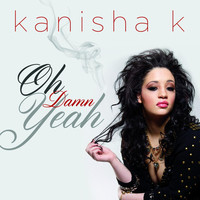 The new remix of Kanisha K's "Oh Damn Yeah" is a single certain to send the young singer's career into another, higher, gear. A successful variation of a song mix should accentuate certain aspects of the track and the bold, boisterous production driving her performance and the sound of this particular track is notable. The work done behind the scenes frames her bluesy pop brilliance in the best possible light and she's accompanied by playing and an arrangement that really makes listeners set up and take notice. Kanisha K is an undeniable talent and her work with producer Joe Vulpis has placed this Michigan native near the forefront of the most promising vocal and performing talents emerging today. "Oh Damn Yeah (Nashville Mix)" will make those familiar with her quite happy and undoubtedly draw some new fans into her orbit.
FACEBOOK: https://www.facebook.com/kanishakmusic/
There's little question that the star of the piece is Kanisha's voice. She has enormous control over this instrument, soaring through peaks in the music, and reining things in when the song calls for it. She undoubtedly benefits from the advice of the team surrounding her, but it's equally clear that Kanisha possesses instincts for getting under the skin of a track that few other performers possess. She knows exactly how to navigate her way through the lyric and elevate its importance several rungs while never seeming too self-indulgent or showboaty. She definitely throws herself into this number with all of the commitment you'd hope for and you'd never know, just listening, that she didn't actually write the song. It certainly sounds like something directly ripped from her personal experience.
The musical backing is exceptional for the song. Kanisha, since she first emerged, has always been defined by a comprehensive approach to her work that aims to impart a substantive musical and lyrical experience alike. The song touches on Nashville-styled influences, like steel guitar, but it doesn't belabor these traditional sounds and, instead, balances them out against the distinctly modern spirit driving the song forward. The guitar work cropping up throughout the song adds some electrifying strains of spice to the musical stew and more than a little rock and roll spirit. The instrumental elements that go into making "Oh Damn Yeah" such a high quality experience are presented with a warm sound and arranged in such a way that they hold listeners attention. It's a straight forward structure that Kanisha's song embraces, it crescendos in all the right places, and never overstays its welcome. "Oh Damn Yeah (Nashville Mix)" will bring more luster to Kanisha K's growing reputation and has the sort of gut punch physicality that we love from soulful singers like this brimming over with youthful energy. It's just as impressive that such a young artist is already working at a high level like this and its certain that she'll only be growing into a bigger and bigger force with each new release.
Susan Michael