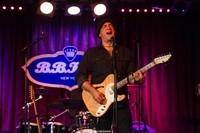 You need to pay attention to this song. If you just let the chorus breeze past, you might think Mark Newman is speaking in favor of its point of view, but far from it. Newman's hard and unsentimental gaze at America's love of owning firearms isn't just some right-minded polemic set to an non-descript or unexceptional musical backing; the compelling music matches the fiery point of view he gets over and the techniques he shows off as a songwriter, stepping briefly inside the mind of a gun devotee for the song's chorus, are as old as popular song itself. He's an multi-instrumentalist with the talent to bring the same sort of swagger to bear on his vocal that comes across in his playing. He's got a great balance between a gritty genuineness and flashes of real style. "When I Aim My Gun" doesn't mince words and gets its point of view across with a minimum of fuss.
One quality about this song that attentive listeners will appreciate is the unspoken truth that ties it all together – there's a story behind each time someone chooses to use a gun and everyone pulling the trigger, in some way however warped, things the weapon is their instrument of justice somehow. The weathered, weary voice Newman brings to the performance underscores this as he does an excellent job of getting inside each of the mini narratives he presents in the verses. The mid tempo jaunt taken by the music remains uncluttered throughout the song, never attempting to overshadow the vocal, and it allows Newman's storytelling chops to carry the day.
There are some instrumental breaks during the song's second half. The organ playing that does a fantastic job adding colorful fills throughout the bulk of the song is unleashed for a brief solo that's delivered with just the right balance of melody and driving swing. Newman takes a guitar solo that will earn him a bevy of new admirers – rather than play to the dark emotions the song depicts, Newman plays with an air of genuine gravitas while still projecting ample melodic value. There's no over indulgence here instrumentally. Newman shows a deft ear for knowing where to lay notes and the same instincts guide his songwriting and arranging. "When I Aim My Gun", likewise, avoids any judgments in the end and seeks to understand. Newman could certainly rage about the scenarios he writes about and allow harsh points of view dominate the song, but he never does. Instead, we are in the hands of an artist who asks questions and tries to probe for causes – all the while providing listeners with a superb listening experience that helps these weighty issues be considered in a dimmer glare. Mark Newman's new single "When I Aim My Gun" comes in at just the right length and has all the necessary lyrical and musical attributes to measure up with anyone working in this style today. He's an immensely talented musical forces and tracks of this caliber will only bring him to the attention of a wider audience than before.
I-TUNES: https://itunes.apple.com/us/album/when-i-aim-my-gun-single/id1279291028
Jason Hillenburg