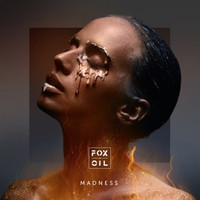 Fox In Oil opts for a technicolor dream world on the pop perfection of "Madness". Quite creative the song runs an impressive emotional gamut as lyrics focus upon a wild, free-spirited approach. Stylistically Fox In Oil draws from a wide variety of genres, going from pop to funk to R&B to a little bit of electro. At times Fox In Oil's effortless grooves feel reminiscent of Daft Punk's output, featuring a fiery passionate groove. By far the true heart and soul of the track comes from the commanding powerful vocalist who remains the strongest element within the piece. Lyrically Fox In Oil opts for a journey-like style, one poetic and possessing great power. Volume deserves to be blasted for the physicality of the many bass frequencies and lovely melodies is undeniable.
Piano and vocals introduce the song before it unfurls with incredible grace. Choosing such a method works wonders. The buildup feels quite real as layer upon layer of the track comes into the mix. Small touches like the handclaps and other percussive elements further explore the psychedelic fervor of the song. Her voice stays steady even as the rest of the track veers into an uncontrollable spirit. Upon letting it all breakdown Fox In Oil truly shows off their impressive vocal might. For the final stretch of it all the way all the previous elements come back for one final rush feels earned.
With "Madness" Fox In Oil delves into a gorgeous world, one full of possibly.
By – Jimmy Ravine