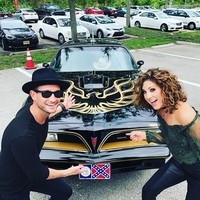 Country duo, Stranger Friends, combine country and rock together with a sophistication all but lost on most of today's fans. They have an interesting background, having submitted one track for a Burt Reynolds movie which led to getting to record the entire soundtrack. Their self-titled EP kicks off with "Country Song" and it's not your usual country stuff to say the least. The song is magnificent in every way, which almost makes you think about folk and easy listening music as much as country itself. It's also very pop structured but you can't get away from the subject matter being defined in the title.
https://www.facebook.com/strangerfriendsband/
It only takes one listen, but it won't stop there because this is world class in every way. It's so familiar you swear you've heard it before. That's how good original music should always come across. The next track up is "Sacred Garden" with a notch turned down in the energy department to build around the brilliant chorus of "baby it's just you and me." This is great stuff too, it's just slower and maybe a little harder to get into. If you do, you'll love the down-home country atmosphere of it all. The only thing left to say is what killer vocals they laid down on this excellent track.
"I Ain't Dead Yet" is another thing altogether. This is a brooding track with much mysticism and majesty. After hearing it you won't be wondering how they wound up with a whole movie soundtrack. This tells a narrative story with a built-up frenzy of guitars and drums that are hypnotically mesmerizing. These lyrics reach out and grab you while only repeating the title in the chorus. A mighty strong piece that is well-placed in the center of the disc. You get the whole western feel country fans often look for with this one track. It might even be worth the price of admission, but all five tracks offer up something special.
On the next track "November & June" they bring the vocals more together between them and it makes for a more uplifting song, but as opposed to the opening track this is where things get more traditional country than not. The guitars really dominate this track with a country spice that helps it deliver just as well as any track on offer here. It's about being complete because you have one another, and how you wouldn't be if you didn't. It goes through some examples of how being together is better than not. By the time you get this, completion is obviously the point, and the point where they get most radio-friendly.
This EP plays almost like a full-length LP based on the quality of the songs alone. But it doesn't mean an EP is always enough to get out there, because ten songs like this would be a lot better than five. It's that good, so the aforementioned-movie soundtrack serves to intrigue after hearing these tracks. "Don't Get Back Up" closes the set with a great lyric that has-to be heard. It's almost impossible to not follow the words of this track as it keeps you just as entertained as the other four. It demands to not get back up when you fall in love. And you won't find much better advice in a song than that. It comes highly recommended.
https://twitter.com/hashtag/strangerfriendsband
Larry Toering