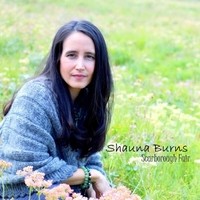 Shauna Burns, since her 2005 debut, has set about redefining what a singer/songwriter can be capable of. The intimate, confessional lyrical style of the genre, infused with a generous blast of poetry, is a staple of the style, but Burns doesn't limit herself to this. Instead, her music draws from the rich traditions of multiple cultures and makes use of them in an unique synthesis that few, if any, modern musical performers can match. She isn't afraid, however, to tackle traditional material and give it a spin that claims the song as her own rather than treating it as if it were a butterfly pinned under glass. "Scarborough Fair", a traditional ballad covered by virtually everyone at some point, becomes a living thing in her hands rather than some ornate work that modern hands are forbidden to refashion. This is the essence of true song craft – no great song is ever set in stone and great interpreters can pour old wine into new bottles when the vintage is suitably tasty like it is with this stalwart folk song.
URL: http://shaunaburns.com/music/
There's an elegiac, nearly haunted air coming from the song. It begins with some delicately framed piano, unadorned except by some extraordinarily nuanced production touches, and acoustic guitar makes its presence soon felt, but nearly imperceptibly. She takes a deliberate pace for the unfolding of the song, sub mid-tempo, and unwinds the vocal melody with the same consideration. It all has a rather spectral, crystalline quality. Burns inhabits the lyrics with a wraith-like insistence, disappearing into the narrative, until she becomes an ethereal, beautiful voice seemingly disembodied and singing from somewhere beyond. The song never risks sounding ornate or stifled, however – instead, "Scarborough Fair" radiates warmth and has a white hot glow persisting for the entirety of the song.
The breathy theatrics she lays over the lyrics never strain for effect and, instead, emphasize the song's long history while also playing to its natural bent as a song about memory. This is a dream-like interpretation of "Scarborough Fair", eschewing straight ahead guitars and clear cut vocal harmonies, and it results in a far more interesting final result than what many of us may be accustomed to from artists revamping this sort of material. Shauna Burns has, obviously, enormous respect for the song, but that respect isn't clouded by disappointing ideas that she can't somehow invest it with something different for a modern audience. In the end, this sounds much more like a Shauna Burns song than some studied recreation of a folk classic. She fills the performance with peerless beauty that comes across in every line and creates an inviting musical environment for every conceivable sort of listener. Shauna Burns' "Scarborough Fair" will prove to cynics that you can find new life in these hoary old folk tunes and shows that Shauna Burns' gifts for getting inside of a song, even one not penned by her own hand, remain as great as ever.
FACEBOOK: https://www.facebook.com/shaunaburnsmusic/
Jason Hillenburg