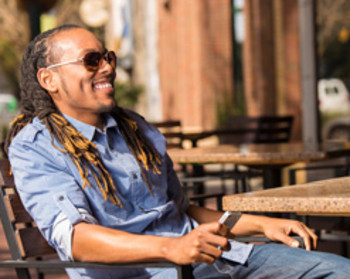 We've seen many artists in our day, but few compare to the tender styling of South Carolina's Christou DaKeeng. A singer, rapper, writer, and actor, Christou is full of hidden talents. His youthful voice is just one of them, embellishing his self-produced music with catchy melodies and heartfelt lyrics. He's truly a "smooth blend of old and new school flavors!"
Christou's musical success started in 2006 with local shows under the label F.A.M.I.S.H.E.D. Ent., and then grew in 2010 with a feature in fellow SC artist Kenny Kane's single "Fly Away," which won an SC Music Award in 2010 for Single Of The Year. Christou's career then grew with singles like "Gamecocky" and "Quiet Storm" which both showcased his original style and songwriting abilities. His influences like Michael Jackson, Marvin Gaye, Prince, and Tupac are all indicators of his broad musical range. Now, under his own independent multimedia label Omni Empire, Christou is making waves with his music, acting, and stellar music videos.
http://www.christoudakeeng.com/
"Enjoying Life" is not only the perfect phrase to summarize Christou's current situation, but it's also the name of his brand new music video. Directed by Uzoma "Uzi" Udogwu, this video is a visually stunning blend of classic musical taste and contemporary R&B style. Shot in black and white, the video depicts Christou and friends exploring the city nightlife and simply enjoying life. It opens with Christou playing the piano and showing off his vocal talent in solidarity, until he gets an invitation to come out through a phone call from "Moon Night Club." We get it Christou, you're a popular dude. The rest of the night plays out with jamming, walking the city streets, and performing in front of a loving crowd. It's the perfect recipe for a night of celebrating life.