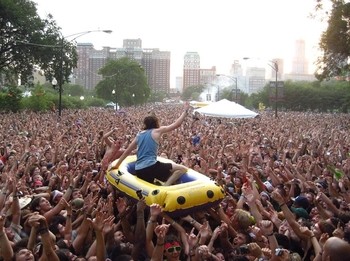 Going to concerts is an experience that can and should be enjoyed by anyone. The best way to make sure you have the most fun is to make a plan to keep yourself and friends safe and healthy throughout the concert. Here are some of the best ways to stay safe at the next big show.
Protect Your Ears
Concerts are loud and there's no way around that, but that doesn't mean that your body should have to suffer for it. If you are planning to be at a concert anytime soon, do your best to protect your ears and avoid hearing loss. Pack some earplugs with you before you arrive at the concert. Once at the show, stand in an area that is not directly in front of the speakers.
Stay Hydrated
Concerts and music festivals are notorious for dehydrating music lovers. Avoid dehydration by staying hydrated. Do your best to drink a lot of liquids before the concert and keep drinking throughout the show. If the concert is in the sun, make sure you take some time to find a shady area to rest a bit. Without consistently staying hydrated, you are likely to faint or suffer from heat stroke.
Avoid Injuries
Getting injured at a concert is something you can and should avoid. Don't do anything that is unnecessarily dangerous like jumping off of tall objects, running into mosh pits, participating in crowd surfing, and the like. Many people unintentionally become injured by the reckless actions of others. In the event that this happens during a concert, it is recommended that you speak with a personal injury lawyer after receiving any kind of bodily trauma.
Keep Your Valuables Hidden
When at a concert, it is best to pack minimally. Keep valuables like your wallet on your person at all times. If the facility you are at has a locked area, utilize this as thefts are exceedingly common in large crowds. Additionally, if you can carry cash only as well as your identification, it may be best to leave the rest of your wallet and any other belongings at home.
The best way to enjoy your next concert or music festival is to be prepared and stay safe. Enjoying music doesn't have to mean that your valuables or your well-being are in danger. Taking the right precautions will put your mind at ease and allow you to have the time of your life.