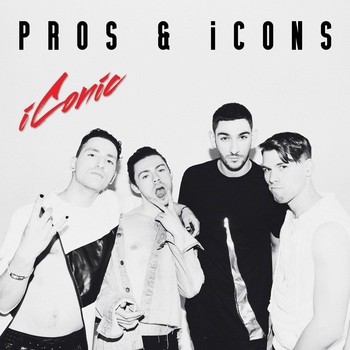 So I am back at it after a brief hiatus. It is good to take a breather and come back refreshed and hydrated. So today we have a foursome of young, handsome, fun, energetic, men in the group Pros & iCons. Before we chat with them lets see whats up in the music news thanks to mi2n.com. First up, Warner Music Group (WMG) has acquired selected assets from Songkick, the award-winning live music platform that attracts 15 million fans a month. The deal includes Songkick's concert discovery app and website as well as the Songkick trademark. As part of the acquisition, some Songkick employees involved in running the concert discovery app will move across to WMG. The acquisition excludes Songkick's ticketing business and pending litigation associated with the ticketing business – http://www.songkick.com. In other news, Blockchain-based protocol developer Aventus Systems has today announced a partnership with Townsend Music, in order to test its ticketing application in the UK market. The first phase of the collaboration is the utilisation of Aventus' first product 'Blockchain as a Persistence Layer Solution' which mirrors the creation, transfer, and sale of tickets throughout their lifecycle on the Ethereum network – http://www.reply.com/en/content/blockchain-ticketing-solution-cloudchain. So now lets get with the guys of Pros & iCons. They have so much going on from a new album, shows, new singles, videos, etc. I am so excited to have them here @skopemag as they gear up to take over Fitchburg State in my home of New England on September 23rd. Lets stop talking and get right into it!
Stoli: Where are we talking from today and are you sad to see summer go?
Pros & iCons: Hey Stoli! We are in NYC right now rehearsing for our end of the year shows coming up. We sure do love the summer, but we are excited to see what the autumn and winter shall bring.
Stoli: Can you believe the horrible hurricanes we have seen totally upend people's lives and is global warming to blame?
Pros & iCons: It's really terrible. We are so fortunate that our loved ones are currently safe. We have a song on 'iConic' called "Through The Storm" in which we discuss making it through difficult times by using the metaphor of a wretched storm. This song never has been more applicable until now. We'd like to dedicate this song to all victims suffering the impacts of the disasters recently. Additionally, since we pride ourselves on self-producing our own music, we'd like to extend an opportunity for those reading to contact us if they'd like music produced by us as well. All of the proceeds from these recording sessions will be donated to victims.
Stoli: Were you friends before the music and how did you create the alias – Pros & iCons?
Pros & iCons: Nick and Lenny met through friends in college. Once they began jamming out songs, Nick became acquainted with Joe from an open mic night. Once the three finished recording 'iConography' (the debut EP), they wanted to start playing shows. In need of a bass player, Lenny was out at a club and bumped into Tyler on the dance floor. It's kind of funny how things came together, wouldn't you say? Our friendship spans the same duration as Pros & iCons. Thinking of the band name was hard, but after many considerations we agreed on Pros & iCons. We took a step back and analyzed the music industry as it currently is. Pop culture has a blurred line between the definition of a 'pro-fessional' and an 'icon'. Is Kim Kardashian worshipped to the same degree as ancient Greek mythology? We noticed there are many 'pros' and 'cons' to the industry nowadays, which is why we decided this is the perfect name.
Stoli: How long did it take to develop your niche sound and how did the four of you contribute to that?
Pros & iCons: They often say that it takes your whole life to write your first album. Being opinionated individuals, we found the common ground of how we want to be represented. We really had to be introspective and allow ourselves to be completely honest with who we are as individuals and as a unit. We constantly were searching for the real us, and we are proud to say that we extracted that and publically displayed our truest selves on 'iConic'.
Stoli: If you could choose two artists/bands that have most influence who would that be and why?
Pros & iCons: If you were to ask us individually, the question would yield numerous responses. But as a unit, we all are personally connected to the most iconic artists to walk the Earth. We want to create something long lasting that will stand the test of time. Who else would we look up to besides the greatest of the great?
Stoli: 'iConic' is out now and it sounds great. How long were you writing/recording and where can readers buy or stream the album?
Pros & iCons: We took about three years to finally crack down on what 'our sound' is, which was no easy task. By writing 100+ songs before we made the final decision to put 'iConic' out, we were able to get a real sense of who we are. Readers can stream our music on all platforms, like Spotify, Apple Music, and YouTube, or purchase our music from iTunes, Amazon, or by visiting our website at prosandiconsmusic.com
Stoli: How would you say that you have grown musically since you put out – 'iConography'?
Pros & iCons: The difference is night and day. With 'iConography', we were merely a garage band with the hopes and dreams of being somebodies. With 'iConic', we have evolved into the bad-boy band we are today, coalesced with a certain charm that's absolutely irresistible. 'iConic' allowed us to wear our rockstar badges with honor; this anarchic fate is something we have fully adopted. Music isn't just a hobby for us — it's a lifestyle.
Stoli: You are playing Fitchburg State this month on Saturday, September 23, 2017. How excited are you to perform and how do you plan to show the college students a good time?
Pros & iCons: We are so hyped! Since we are not that much older than the average college student, we still are at that age that we can party 24/7. College and university shows are our favorite…this show will be no exception! We will be implementing lots of new stage props for this show, so Fitchburg is in store for something very different!
Info: http://www.fitchburgstate.edu/offices-services-directory/osd/homecoming-weekend
Stoli: When you are not making music what do you enjoy doing?
Pros & iCons: Haha, there's never a dull moment with us. We enjoy doing anything that allows us to be active or creative. Hiking, working out, even sky diving! We love having a good time, so even it's time together spent at a bar at 2AM, we're happy! We operate on the philosophy of "work hard, play harder."
Stoli: Being that you guys are all young & immersed in social media/technology. What platform do you find helps retain and gain fans for your music?
Pros & iCons: YouTube has shown us lots of love form fans from foreign countries, to the point where it's commonplace for us to see "Te amo! De Espana!" or "Come to Japan!" in our comments. However, Instagram really takes the cake. Nowadays, we notice we are getting more and more fan accounts that dedicate their posts to pictures of us and clips of our music. From Brazil to Afghanistan, the fans have been absolutely incredible! We have been using live streaming services too, like You Now, which allows us to expose our day to day lives to brand new people each time.
Stoli: What is coming up for Pros & iCons and where you @ online?
Pros & iCons: We are just finishing out the year doing East Coast shows, but you can expect new videos, tour dates, and more from us in 2018! Just make sure to follow us on all social media @prosandicons, or visit our website http://www.prosandiconsmusic.com to stay up to date.