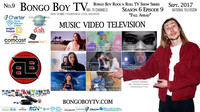 Aired its premier on Tuesday August 15 on Channel 29 in Portland, OR at 10:30PM and is followed by heavy national Television rotation on 66+ TV channels. Including Nashville Channel 9, Los Angeles Channel 36 and many others.
Mandy Brooks sings with soul on "People Get Ready". With a vocal style that draws heavily from the blues the song permeates with incredible optimism. A laid-back, mellowed groove drives the piece forward with such determination.
Physical to its very core, Patent Pending's "Wasted/Wake Me Up" demands volume. Highly articulate lyricism and infectious riffs at times reveal a fondness for pop punk, as their sound has a tremendous amount of energy pouring out of it. Quite joyous, the track has a celebratory spirit to it.
Embracing darker hues, Ben Lorentzen's "Dead Man In The Closet" reveals a penchant for poetic storytelling. An elegant quality guides the piece forward, as the incorporation of dramatic flourishes adds to the song's hypnotic quality. Things at times reference a classic singer-songwriter tradition.
Neon-hued 80s inflections define Travis Marsh's infectious pop musings for "Don't Call Me". Throughout the song, Travis Marsh utilizes light to great effect, letting the song soar into the sky with such majesty. Riffs and rhythm further emphasize the independent spirit of the piece.
Richard X Heyman's "Gleam" feels deeply reassuring. Keeping things to the absolute essentials, the song contains a nostalgic hue to it that gives the song such heart. Guitar work feels so precise as it brings together folk and rock n' roll with such grace.
Intimate to its very core, John Tracy's "Midnight Moon" comes straight from the heart. Deeply personal the song's message resonates with great power, with classical elements adding to the heft of the piece. Lyrics contain a carpe diem quality to them.
Spirituality rests at the very core of Wai Lana's "Oh My Sweet Lord". Classical and ambient work in unison to delve into a rich and vibrant past. Buildup occurs with a naturalistic flair, allowing the melody to float by with such a dreamy spirit.
A fully fleshed out symphonic approach allows Les Fradkin's "Black Gypsy" to soar into the heavens. Lyrics focus on the downtrodden, as it tries to emphasize the hurt that a city can bring. The multi-faceted, multi-layered approach gives the sound an all-consuming spirit.
More info. at http://www.bongoboytv.com.
By Beachsloth.com