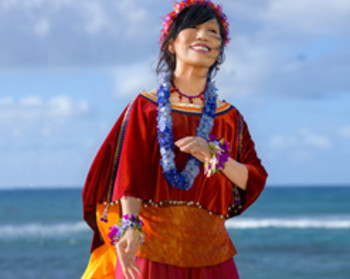 In honor of the 3rd Annual International Day of Yoga on June 21st, world-renowned yoga teacher Wai Lana is releasing her new "Oh My Sweet Lord" music video. Get ready to see a side of Wai Lana unlike anything you have ever seen before. Whether you recognize Wai Lana as an expert yoga teacher, a spiritual guide, a TV star, or an ambassador for healthy living, her radiant personality is so attractive that countless fans have expressed, "whatever she has, I want it." With "Oh My Sweet Lord", we get a glimpse into her heart and soul, her motivation, and the source of the wisdom and spiritual love that has inspired her to help so many over the past 40 years.
The much-anticipated release of "Oh My Sweet Lord" follows Wai Lana's two previous Yoga Day releases, both of which touched the hearts and minds of millions of viewers around the world. In 2015, she released "Namaste," which spread the message that we are all brothers and sisters and should care for and be respectful to one another. Then in 2016, Wai Lana's Alive Forever short film delivered a beautiful cinematic expression of the ancient meditation "Aham Brahmasmi," which showed us that by appreciating the immortality of the soul we can overcome the sadness that often accompanies the aging of our bodies. "Oh My Sweet Lord" picks up from there. Knowing that we are eternal, Wai Lana now reminds us to always remember our Sweet Lord and, in doing so, our loneliness will subside and our desire to love and be loved will be fulfilled.
Wai Lana Yoga, the longest-running fitness series in the history of public television, is well known for featuring spectacular shooting locations. But "Oh My Sweet Lord" takes it to a whole new level. As you follow Wai Lana through moonlit forests, breath-taking cliffs, and even waist deep into the ocean's gentle waves, you will be transported to the transcendental inner world of love for the Supreme Soul. "Oh My Sweet Lord" is truly a video masterpiece.