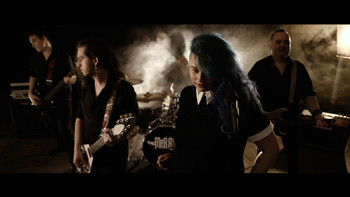 The New Zealand rock powerhouse is back with a vengeance with their highly anticipated album titled 'One' due out this month. I first heard this group back in 2013 and knew then that Merrin had that special, unique quality and powerful sound that would help them stand out in a sea of musicians. Four years later, the band is on fire and ready to set the music world ablaze!
The current song being promoted is called "Sin" but absolutely nothing sinful about this track. The song is chalk-full of edgy hard rock and hard-hitting adrenaline where one can't help but get sucked into the aura of the Mighty Merrin. Lead singer Charlie Phillips slices through you with her sharp 'n' soaring vocals and dominant presence on "Sin". The entire band is playing with such brute force that helps drive the whole tune where it's pedal-to-the-metal, nonstop energy. Nothing wrong with "Sin" here and can't find any faults so in the words of Billy Joel: "The sinners are much more fun. Only the good die young". There is also an official music video that is a raucous good time and you can SKOPE it right here:
In addition to lead vocalist Charlie Phillips, Merrin includes four other members: "KJ" Karl Wootton on rhythm guitar & backing vocals, Angelo Pantelakis on lead guitar & backing vocals, "Maxwell" Richard Maxwell Jr. on drums & backing vocals and Logan Wood on bass and backing vocals. Together, Merrin plays and performs with such a ferocious tenacity that is boldly infectious. They play with extreme gusto so the only thing you can do is pump your fists in the air, go HELL YEAH and as KISS says "Shout it, Shout it, Shout it out loud"!
The scheduled release date for the physical album 'One' is set for September 15, 2017 with a Release Party shortly after. And the digital version is scheduled to be released on October 01, 2017 with a Pre-Ordering option starting on September 24, 2017. For more updates & information on the New Zealand rockers be sure to check out www.merrinmadness.com where you can get the full, inside scoop on all things Merrin. Make sure to stay tuned because the stage is set for Merrin to make a BIG entrance with their new album 'One'. There is only one way to go and that is straight up as Merrin brings you high-octane rock music with definite flair. With a hard-nosed sound & distinctly original style, the Monsters of Musical Mayhem will conquer and destroy any doubters or naysayers in their path. Merrin has won the battle already with a full commitment to "Sin" and heavy devotion to 'One' as the Merrin Madness continues full speed ahead. I'll leave with you a line from a popular Bachman Turner Overdrive song that is the perfect curtain call/closer for Merrin: "You ain't seen nothin' yet. B-b-b-baby, you just ain't seen n-n-nothin' yet."
By Jimmy Rae (jrae2@att.net)