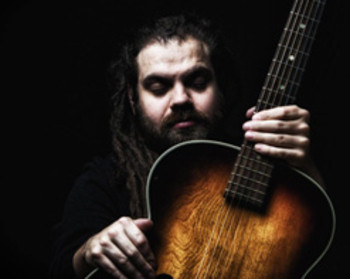 A dedicated guitarist with a love for Reggae, Dub, and Soul music, we present you with Van Gordon Martin. This spirited musician from Illinois started his music career at the young age of seven, and grew his love for the art in the rich Chicago roots. His very first job was polishing and stringing guitars in a local music shop, and his second job was playing them, while being mentored by legendary Parliament Funkadelic and Talking Heads keyboardist Bernie Worrell. From there, this budding star spread his wings and moved to Boston , MA, where his music career took off.
http://www.vangordonmartin.com/
Van Gordon Martin has been a veteran of the east coast music scene for over a decade. He is a member of the Boston based Reggae collective Dub Apocalypse, a Moroccan/Jazz/Electronic group called Club D'efl, Hip Hop Legend Big Daddy Kane's live band, Paul Wolstencroft of Slightly Stoopid's Organically Good Trio, The Naya Rockers, and many others. He is also a founding member of Spiritual Rez, a project which he toured with extensively up until 2011. While taking roots in Reggae and Soul music, he draws his influences from positive vibes and live performance. He says "my musical goal is to share my story, and love for guitar with the world."
The story of VGM's video for "Let It Grow" revolves around bringing life back into a rather un-lively city. The most interesting detail to note is that the entire video is animated in 2D, allowing VGM's imagination for the visual storytelling to blossom. He quite literally spreads love and life through the means of growing greenery throughout the city and watering it with a walking water pot. The plants come to life, personified in many ways, aiding VGM in further spreading their roots and in spreading his love of music and life. Near the end of the video, you can see a few branches on a tree morph into the shapes of instruments, representing the band backing VGM's masterful guitar. This work of art is an accumulation of all of VGM's musical, spiritual, and creative efforts.