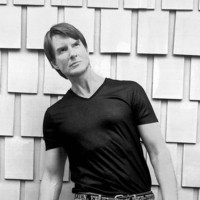 Californian Nicc Angeles is a musician like many other artists within the music scene, making something of themselves in the ways of the art that is music. But of course Nicc's music is an accessible language of its very own. It is comprised of the elements that go of bring out the true and unapologetic feelings into communication. In short it is the pop, rock, grooves of today's era of music. Take the classic icons of David Bowie meets Prince is how he describes his music, with the added flare of urban and hip hop to the mix, you get the glimpse of what to expect.
Especially when it comes down to his EP "Taking Off" that features his single of choice "Over This". A track with a description he says is the "Summer break Up (with the B.S.) song". So yes it is another one of those types of tracks, dealing with the loss of a loved one, not in death but in departure of a break up in of all times of year the summer!
"Over This", not only became the single for this EP "Taking Off", but became the single that would come with an accompanying video as well. The video showcases scenes across the California terrain, entering the city sides, country sides and late nights of the rough sides of it all. Song going into details about the breakup of being over this, not wanting to deal with it all, just wanting love but not receiving it in return. Nicc really expressing his dislike of it all and just being over it.
How can you not relate to his words of expression in the form of these lyrics. Let alone the video's appeal of it all, the reality of scenery of California as it is, and the love taken away from the whole picture. It is truly downright depressing. Seeing the video's scenes depicting his love life as it once was and seeing it unfold as it had, just sucks. It really sticks to your mind, making you think over your current or past love lives of your own. It is not a pretty sight to think about if at all really. It simply sucks.
The song itself though, is captivating, stunning, and flawless. His vocal range and melody of the track really compete with one another. You have such a soothing yet comforting voice with overwhelming melodies, that it clashes together at times, making it sound as it is competing with one another. It is hard to explain it really, but it is just really emotional if that makes any sense.
Nicc Angeles' ability with music creativity is interesting. He is able to connect to the listener on an amount of levels, with the topics of choice he picks out. "Over This", off "Taking Off" EP is one of those songs with a release to follow. It just brings it altogether to sound catchy and pleasing to the ear. There may not be any other way around it, he just has a way with music and word of mouth, heart, and soul.
By: Natalie Perez