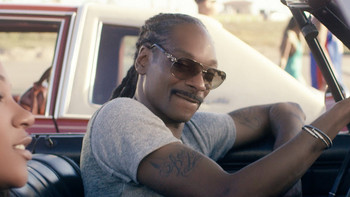 The west coast legend, Snoop Dogg is back. While he is gearing up to drop off a brand new opus soon, today he returns with the visuals for his single called "Trash Bags." The track finds Snoop linking up with K Camp this time around providing yet another single from his album, Neva Left. Together, Snoop Dogg and K Camp hit the strip club for their pole dancers' anthem.
Uncle Snoop is joined by King Slum in the visual, which blends neon strip club signs with curvaceous dancers dressed in black lingerie. The scantily-clad ladies give lap dances to a bunny and a dog mascot before showing off their acrobatics on a pole while dollars fly around.
It's all about the paper for Snoop, who plays dominos before counting cash. That doesn't mean he doesn't enjoy the show, too, as he looks on and puffs smoke in the air. Meanwhile, K Camp raps with trash bags full of dough by his side.