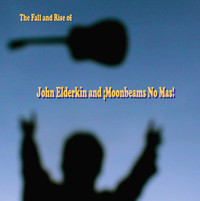 This is showstopper album featuring seventeen cuts represents the final product of two year's worth of studio work pairing primary stars Elderkin and Danielle Howie with a cadre of crack musicians from the North Carolina indie scene. The Rise and Fall of John Elderkin and ¡Moonbeams qualifies much more as an extended musical narrative than a concept album and the difference is subtle, but real. Concept albums, by definition, are wrapped up by an uniting theme or "concept" guiding the work's development. While musical narratives like this are steered much more clearly in a novelistic sort of fashion with a song cycle intent on advancing a storyline. It covers a variety of stylistic bases, from alt-country to psychedelia, and conjures just enough of the epic missing from much modern musical releases. No Mas! Is impressive not just for its unique scope, but for the accessible and dramatic music helping Elderkin, Howie, and their musical collaborators realize its singular goals. This feels like a one-off project; we're unlikely to see this project again. It, however, feels and sounds like an event.
BANDCAMP: https://moonbeamsnomas.bandcamp.com/album/the-fall-and-rise-of-john-elderkin-and-moonbeams-no-mas-2
The album opens with a brief bit of theatrical voice over on the track "News Came Over", but Elderkin wisely never belabors the moment and soon segues into the album's first proper song. "We Waited Five Years" lyrically relies on the central hook of its title a little much, but them writing nevertheless makes an intensely substantive personal statement. The amped up jump blues rock propelling "Messy Down Below" gets an equally raucous vocal treatment and the ambient sound effects surrounding the piece add considerable atmosphere. One of the album's indisputable high points comes with the track "Song for David Bowie" and, instead of getting another hamfisted sentimentalized tribute to an icon, we get something so truly daring and reverential in the same breath it further establishes just how rare an album and talent like Elderkin truly are. There's an effortless blend of striding mid-tempo rock, acoustic guitars, harmony vocals here with even a bit of spoken word tossed in for good measure, but it never comes off as self-indulgent or overwhelming. Instead, Elderkin adopts some recognizable mannerisms, musical and otherwise, before using it as a vehicle for journeying off the map and exploring new personal territory.
"Gather Your Strength" begins with a clean, slightly jangling guitar melody juxtaposed against another superb Elderkin vocal. Subtle melodic variations are introduced along the way to further twist the tune towards new ends. The intensity and tempo only gets dialed up during the song's second half and the patient build helps the performance pay off for listeners in an even bigger way. The plaintive piano and guitar driven ballad "You Got Sick" is a particularly effective tune thanks to its unadorned melody and the naked vulnerability it projects to the audience. He veers often into harsh, un-commercial textures with the wide-eyed freak out singalong "Fat Levon on Acid" and Levon makes another appearance during the intro for the late keyboard driven rave up "Telstar". The final song on the album, "Give Me Your Hands", is slightly undermined by the theatrical spoken word passages interspersed with the music. On its own, however, the song plays like an ideal ending for this marvelous and fully immersive album.
CD BABY: https://store.cdbaby.com/cd/johnelderkinandmoonbeams
Jason Hillenburg