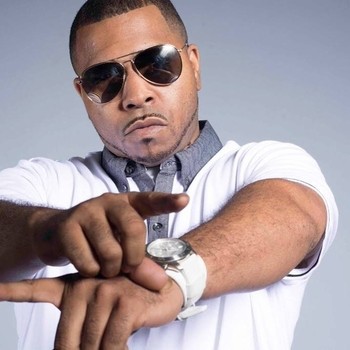 Phelo The Great has had quite a road to walk upon, when it comes to his life. His was born, relocating later on where he grew up. He would go on to join the U.S. Air Force, discovering his real talent for music, where he would take music into the hobby field, later experiencing some troubles both good and bad, he would pursue music as a career, hence he had taken the time to write and record for his debut album "The Coming of Phelo The Great". Phelo himself has taken his time to spread his emotions with all of his experiences over the course of time, he's had upon this place we call Earth.
NP: Can you give us a brief history of Phelo The Great and what style of music is created within this project?
Phelo The Great was born In Berkeley, California and relocated to Memphis, Tennessee where I was raised. After graduating high school I joined the U.S. Air Force where I discovered I really had a talent for music that people loved. As I began trying to find the perfect career for myself I continued to make music as a hobby but really didn't think I had what it took to sustain a career as a musician. My mother died February of 2014 and my daughter was born March 2014. After these two events I decided I was going to educate myself and pursue music as a career so now we're here anticipating the release of my debut album The Coming of Phelo The Great, which is out now. The style of music on this project I would describe as versatile. I have the ability to speak on every emotion I experience which makes me a threat and asset cause you will never get the same thing over and over musically with me.
NP: How did you come up with the name Phelo The Great for this project? What does this name mean or represent for the music behind it?
Phelo was a nickname given to me by a friend I grew up with in Memphis, Tennessee. Now that you ask I can't remember for sure but I think it was Marlow Woods who gave me the name Phelo. Marlow was a high school football teammate of mine. I add the great to Phelo cause growing up I was always free styling and my homeboys use to always ask me to rap so of course I did cause I love music and attention. I found out by battling other people who wanted to be or thought they were already rappers that I was better than most and really focused on living up to the great whenever I was on the mic.
NP: Can you please tell us about the concept and lyrical themes of your previous releases up until this current release "The Coming of Phelo The Great"?
Well The Coming of Phelo The Great is actually, believe it or not my first release. Prior to this release I just was making songs cause I enjoyed making music, so I have an extensive catalog and there will be plenty more music coming from Phelo The Great after the initial release. There wasn't any lyrical themes. My music created out of emotion more so than theme. My music isn't planned I don't know what I am going to write until I hear the beat and it guides my emotions which aides my thoughts. So when I'm delivering those emotions through song I want the listeners and fans to get a natural feeling that can't be scripted.
NP: Would you say there is a special reasoning for choosing your music conception?
I wouldn't say a special reasoning. I would simply describe it has been in tune with my emotions. My conceptions come from the real life experiences that I have encountered.
NP: How did you manage to create music at all? What challenges do you face when it comes to writing and recording a release?
I am a firm believer that anything you love to do you will make time for. Working a 9 to 5, being a father, and creating music can get challenging at times and takes extraordinary time management. The main challenge I face when creating a project is trying not to make my love ones feel neglected cause I get consumed with the creation of a project.
NP: Tell us about your favorite artists or bands, from whom you gain inspiration from. Are you having any particular favorites that has emerged the most from the genre of choice you create?
Brad "Scarface" Jordan, Tupac Shakur, and Christopher "B.I.G." Wallace are my biggest influences. Outkast, 8 Ball & MJG, & UGK are the duos I really listened too. Jay-Z as of today has become an artist I am currently studying. I aspire not to only be considered one of the best to MC, but known as a business mogul such as Shawn "Jay-Z" Carter. Clifford "T.I." Harris has emerged as one of the favorites I listen to now. I enjoy the hustle and those who have made off the hustle.
NP: Give more in-depth detail about your latest release "The Coming of Phelo The Great". How did this release come together?
"The Coming of Phelo The Great" is actually a re-release. The initial album had 19 tracks on it. I started seeking industry knowledge and through my research I discovered major labels do not pay for than 10 tracks on a single album, so I split my album in half and created another single entitled "Type I Like" ft. Mystakinfolk and produced by Mystakinfolk as well.
NP: How was the experience working over in the studio for this release, have any funny or perhaps sad happenings during studio time?
The experience was great because I love creating music but at times it can be challenging trying to split time between family and this project. Through it all I persevered and finished the project and anticipating what the world and critics have to say.
NP: Where did the idea for the release's title come from why pick "The Coming of Phelo The Great"?
The title pretty much speaks for itself. This is my first album and the coming of me into the hip-hop world has a career. Now that I'm here I don't plan on going anywhere until I am ready to leave.
NP: Who was the one to decide on the artwork for "The Coming of Phelo The Great"?
Myself and my guy Mozell Martin for 910videoanddesign.
NP: Which tracks off this release would you say is your favorite and why?
Hey Momma is my favorite song. The reason Hey Momma is my favorite is because it's a tribute to the woman he gave me life. My mother was my first super hero. She always made it seem like she never had a bad day as if it was nothing she couldn't conquer.
NP: Why should people go out and check out "The Coming of Phelo The Great"?
The people should check out "The Coming of Phelo The Great" because it's a breath of fresh air. The lyrics are dynamic, the beats are full of energy, and the transitions of the songs flow flawlessly. "The Coming of Phelo The Great" is a must listen for those music fans who love lyrics. I recommend everybody listen to the album because I know it's a least one song on the album for everybody.
NP: What do you have lined up for the rest of this year?
Well for starters "The Coming of Phelo The Great" debut album is now out everywhere. I am a member of a group which goes by The Group (TG), The Group's album drops October 14, 2017. The debut single for The Group's album is entitled "Yes Indeed" stay tuned for more on The Group. I will be releasing another solo album as well later this year. I would like to give a shout out to Pastor Don Jr. CEO and the winning team in sunny Las Vegas and to streetsdradio based in St. Louis. I will be interviewing with DJ Thoro of ThisIs50.com in St. Louis that weekend can't wait that's big! Shout to ThisIs50.com as well and to Skope magazine for the feature. Much love from Phelo The Great!
NP: Any messages to the readers of this site?
Yes. Please follow Phelo The Great on all social media sites it's phelothegreat on all sites one word. Also go to my website phelothegreat.com [1] and register for my fan club so you can receive discounts and be the first to get new music via free downloads. Also please support your local artist no matter what city and state you're in. The artist is nothing without the people and that's fact. So to all the readers and fans of Skope and Phelo The Great, I love you and appreciate you anything I can do for you reach out to be and let's work! Once again I'm Phelo The Great. Good luck, God bless, GONE!!!!!!!!
https://www.facebook.com/phelothegreat/
By: Natalie Perez