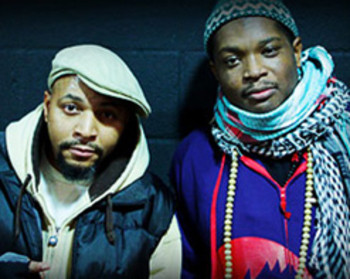 From Birmingham, Alabama comes hip-hop duo Shaheed and DJ Supreme. An in-your-face duo that's performed with the likes of Akil (the MC of Jurassic 5), they've strayed from the typical dirty south style to the old-school boom-bap style of hip-hop. They began their collaboration in 2007, releasing two critically-acclaimed albums- Heath, Wealth, & Knowledge of Self and Scholar Warrior (a remix album)- before signing to legendary Birmingham label Communicating Vessels.
In 2013 Shaheed and DJ Supreme released Communicating Vessels debut (and third album overall), Knowledge, Rhythm, and Understanding. Impose Magazine praised DJ Supreme's "encyclopedic production skills" and said Shaheed "keeps the vibe and rhyme upbeat with the microphone love affair alive." In 2014, the duo won MTVU's The Freshmen contest for their prior video, "Champions of Truth."
http://www.facebook.com/Shaheed-and-DJ-Supreme-256507434425098
The "Glorious Day" music video is guaranteed to put you in a good mood. Quite simply, it shows Shaheed and DJ Supreme having a picnic in a Birmingham park. It's a beautiful sunny day, they're surrounded by loved ones, and get to take it all in while kicking around a soccer ball- what could be better? In his lyrics, Shaheed talks about the positivity his faith has brought him, saying "I'm flying high through the sky on a spiritual plane" and encourages listeners to take care of the Earth. Nothing should be taken for granted, and in the heavy times we're living in now, uplifting lyrics like "No matter what day it is, I can smile and be proud" are a much-needed relief from negativity.