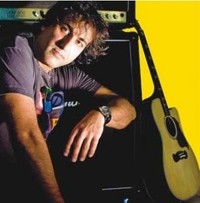 Omid Master's latest three songs, undoubtedly taken from his impending third album, are indicative of an evolving talent who has a penchant for strong melodies, a memorable voice, and the ability to write cleanly and concisely about universal experiences his listeners share. He brings something of himself to the songs "I'm Going Crazy", "Only You", and "When I Close My Eyes" lacking from the tool boxes of most modern pop performers and his inventiveness with his emotional bravery, the personal qualities he brings to each performance, and his willingness to lock onto the form suiting his purposes and not over indulging himself in any fashion. It makes these songs winners from the outset and Master's voice carries much of the day with its powerful presence and undoubted skill. Based on these cuts alone, it's unimaginable that Master's next album will be anything less than a rousing success.
URL: http://www.omidmaster.com/
"I'm Going Crazy" has a nice mid-tempo saunter and a delicate weave of instruments all revolving around Master's vocal. He's a natural singer in the sense that he completely inhabits a lyric and never stumbles through sometimes challenging vocal melodies. This song about being apart from a loved one conjures up all the expected emotions someone might experience in that scenario and has an accompanying musical attack that's uncluttered and focused on never wasting a single note or word. The song sounds like it emerged, full born, from his imagination and there isn't a single hole in its performance. "Only You" has an even more memorable tempo and the drumming really stands out because of it, but it takes a slightly different approach than we heard on the first song. Acoustic guitar is much more in force here and Master shows the good sense to adjust his voice accordingly. The interplay between the guitar and his vocal is quite exceptional.
"When I Close My Eyes", the last of the three songs, grabs listeners by the collar from the first and treats them to the full breadth of Master's ambitions at this point. It has a slightly orchesteral air, but such moves never render a song inert in Master's world. The color and force brought to bear here is quite memorable and Master's vocal proves more than up to the challenge it presents. The drumming is much more assertive than on the previous two songs and recorded in such a way that each hammering blow rivets a listener's attention. It's the song with the widest musical and emotional scope and probably the most complete performance of the three songs discussed here. It's difficult to imagine this track won't be a centerpiece number on his upcoming third album. Omid Master's power and style are enough to carry the day here, but his talents as an interpreter means these songs will be a transformative experience for some thanks to his ability to grab an audience's heart.
Joshua Stryde