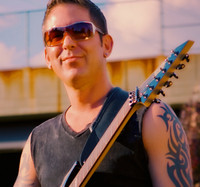 Metal Saint, the performing name for composer/actor/ and production company owner James Tunnell, is a project born out of faith. It isn't merely faith in a loving God. The project and its first single "Choose" are reflective of faith in himself, the collaborators surrounding him, and faith in the music to help him communicate his intensely personal message to the world around him. It's been a journey/ The journey began at thirteen years old when Tunnell obtained his first electric guitar and embraced early influences like Iron Maiden, Yngwie Malmsteen, and Joe Satriani and soon evolved into a passion for both bass guitar and keyboards. The young Tunnell took keyboard lessons from keyboard maestro Derek Sherinian and even struck up an unlikely acquaintance with hard rock guitar legend Ritchie Blackmore. By this point, however, Tunnell felt another pull in the direction of acting. He appeared in theatrical productions and showed up on popular television programming like the hit series Law & Order, but what truly stoked his inner fire was witnessing the nuts and bolts of what makes a television program successful behind the scenes – the lighting, the attention to production values, and so forth. Not even a long ordeal with his wife suffering through cancer swayed him from that passion – if anything, his faith remained stronger than ever and his wife ultimately survived. "Choose" is not merely a song. It is testimony of a sort.
REVERBNATION: https://www.reverbnation.com/MetalSaint
The deliberately paced atmospherics opening the song will capture the attention of many. There's a bit of ambient swirl in those earliest moments and sparse drumming before the guitar enters for the first. The six string work strikes a decidedly melancholy and lyrical note. It shows some of Tunnell's influences from Iron Maiden and, to a lesser extent, Metallica, but his personality emerges from the playing. He knows how to build a song for maximum value. It is evocative without ever being heavy handed and the melody is quite strong. There's also immense patience guiding this song. Tunnell takes his time orchestrating the song's mood and it isn't until near the two a half minute mark of a song running a little over four minutes that "Choose" shifts into a higher gear. The segue comes quite naturally. The lead guitar, no longer pensive, starts screaming with fiery vigor and the drumming hammers away as opposed to the muted playing characterizing the song's first half. Tunnell's lead guitar chops are immediately apparent. The song returns to a more reflective mood before it concludes and everything ties together in a coherent way.
The vocal has a lot of strength while inhabiting the lower end of his register. It adds a little more drama to the lyrical content – once again, there's an obvious religious focus to Tunnell's ;lyrical content, but it isn't so far removed from every day experience that secular listeners will be unable to relate. Metal Saint definitely makes a positive impression with this track and there's nothing here that longtime fans of the genre will find musically disagreeable. The recording packs a lot of punch and the songwriting fundamentals that go into making this work are sure to be in ample supply on the remainder of the album.
AMAZON: https://www.amazon.com/Things-Foretold-James-Tunnell-Metal/dp/B072ZC88B6
Jason Hillenburg